Is your dog eating the same food every day? If you're looking for a way to switch things up, you can try making your own homemade dog food recipes. There are lots of different recipes out there, and best of all, you can tailor them to your fur babies' specific nutritional needs. Whether they be small breed or senior dog food.
What ingredients should be in homemade dog food?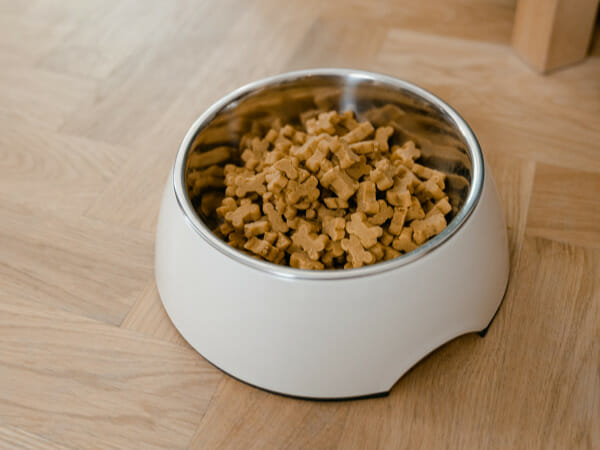 If you're looking to try homemade dog food recipes, you'll want to make sure you have all the right ingredients. While the specifics will vary depending on your pup's diet, some basics are always a good idea. Here are the essentials of homemade doggy cuisine, so you can make sure your pooch is eating healthy and happy!
Meat
Meat is a good source of protein and essential vitamins and minerals for dogs, so it's a key ingredient in any recipe. You can use fresh or frozen meat, depending on what's available and convenient. Some good choices include beef, chicken, lamb, pork, salmon, and turkey.
Carbohydrates
Carbs are an important part of a healthy diet for dogs. They provide energy and help maintain a dog's health. There are many different types of carbs, and each one has its unique benefits. Some of the most common types of carbs used in dog food include grains, fruits, and vegetables.
Organ meat
Whether you're cooking up a simple stew or mixing in some raw Organ Meat is the perfect way to give your dog the nourishment they need. Organ meat is a great source of nutrients, including protein, iron, and zinc. It's also a good source of omega-3 fatty acids, which are beneficial for canine health. Adding a high-protein diet can help improve their coat, energy level, and overall health.
Fiber
Fiber is essential for overall health and can help with digestion, weight management, and is good for sensitive stomachs. fiber is easy to come by in natural ingredients like fruits and vegetables. By adding a few handfuls of fresh produce to your dog's food each day, you can ensure they're getting the fiber they need to stay healthy and happy! Plus, it's easy to add fiber to homemade dog food–just mix in a little bit of psyllium husk or chia seed.
Healthy fats
are an important part of any diet, including homemade dog food. They provide energy and help your dog stay healthy and strong. Make sure your dog's diet includes plenty of healthy fats from sources like salmon oil, coconut oil, olive oil, fish oil, and flaxseed oil. Not only will your dog have more energy and be less likely to get sick, but he or she will also have a glossy coat and bright eyes.
Best Homemade Dog Food Recipes
Do you want to make your own dog food? It can be a fun project, and it's a great way to know exactly what your dog is eating. There are lots of homemade dog food recipes out there, but we've compiled some of the best ones for you.
From simple and affordable recipes to more gourmet options, we've got something for everyone. So get cooking! Your furry friend will thank you.
DIY "Old Standard"
Ingredients:
1 zucchini (shredded)
3 lbs ground turkey
1 1/2 cups of brown rice
2 carrots shredded
1/2 cup green beans or peas (frozen or canned)
1 tbsp olive oil
3 cups baby spinach (chopped)
How to:
In a large saucepan, pour in 3 cups of water. Then cook rice following package instructions. Set aside.
Using a large Dutch oven or stockpot, heat olive oil. Saute ground turkey and cook until browned for about 3-5 minutes. Crush the turkey while cooking it.
Mix in spinach, zucchini, carrots, brown rice, and peas. Cook until the spinach wilts and the mixture is cooked through for about 3-5 minutes. Let this homemade dog recipe cool before serving.
Slow Cook Veggie and Beef
Ingredients:
1/2 cup peas (canned or frozen)
1 1/2 cups of brown rice
2 1/2 lbs. ground beef
One can (15 oz) kidney beans (rinsed and drained)
1 1/2 cups carrots (chopped)
1 1/2 cups butternut squash (chopped)
How to:
In a slow cooker, pour in brown rice, ground beef, butternut squash, kidney beans, peas, carrots, and 4 cups of water.
Cover it. Then cook on high heat for 2-3 hours or low heat for 5-6 hours. Stir it when needed.
Let this DIY dog recipe cool.
Healthy Homemade Dog Food
Ingredients:
1 lb ground turkey
2 cups brown rice
6 cups water
1/2 pack frozen veggies (carrots, broccoli, and cauliflower mix)
How to:
In a large Dutch oven, combine water, rice, ground turkey, and rosemary.
Stir until ground turkey is crumbled and mixed evenly.
Bring to a boil over high heat. Then lower the heat and let it boil for 20 minutes.
Stir in the mixed vegetables. Then cook for another 5 minutes.
Remove this homemade dog recipe from heat then let it cool.
Refrigerate the remaining for future use.
Mashed Veggie and Turkey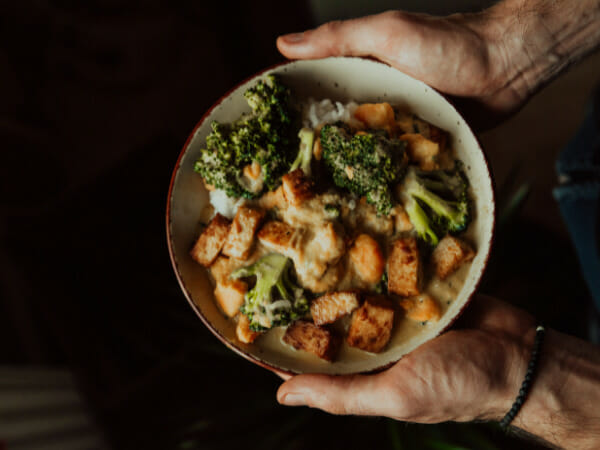 Ingredients:
1/2 cup zucchini (sliced)
2 pounds ground turkey
1 cup cauliflower florets
2 tbsp raw chicken or turkey liver (pureed or finely diced)
1 cup broccoli florets
2 medium carrots (coarsely chopped)
2 tbsp olive oil
How to:
In a double boiler, add 1 1/2 cups of water. Then put carrots inside a steam basket over the pot and cover. Bring to a boil then lower heat to reduced steam and boil until carrots become tender for about 10 minutes. Meanwhile, add the liver and turkey to a large pan. Cook on medium-high heat until done and browned. Drain any fats and throw them.
Mix in cauliflower, broccoli, and zucchini. Continue to steam until all veggies are soft but not mushy for about 6-8 minutes. Let the veggies cool then chop using a knife or food processor. The size of the chopped veggies varies depending on your preferred consistency. For consistency similar to canned dog food, chop it three times in the food processor to get it finely chopped.
Add chopped veggies to the liver and turkey. Then stir to combine evenly. Pour in olive oil and toss to combine with the veggie and turkey mixture. Let it cool before dividing and storing this homemade dog food recipe into containers.
Mixed Veggies Stew
Ingredients:
2 large chicken breasts (cut into 6 pieces)
1 cup brown rice
2 1/2 cups water
Two cups sweet potato (cubed)
2 pounds frozen mixed veggies (carrots, green beans, and peas)
Put ingredients in a slow cooker covering the chicken completely with vegetables.
Cook for 8 hours on low or 5 hours on high.
Once cooked, remove it from the slow cooker. Shred the chicken and mix it into the rice and veggie mixture until distributed evenly.
Cover and store in the fridge for three days. Moreover, you can freeze this homemade dog food recipe in single-serve options for longer storage.
You can opt to add some bone broth to your homemade dog recipe stew.
DIY Dog Meatballs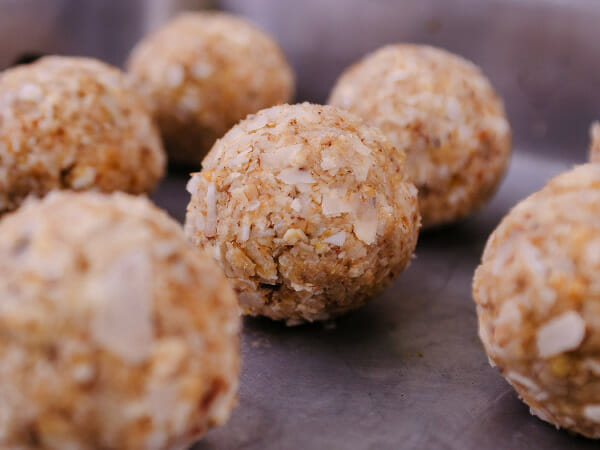 Ingredients:
Flour
4 eggs
3 slices of bread (in small cubes)
10 lbs lean ground beef
4 carrots (steamed or boiled and mashed)
3 cans pumpkin puree
2 cups of oat bran
4 kale stalk leaves (chopped finely)
Pinch of salt
How to:
Place all ingredients in a bowl. Combine them all then form them into balls of your preferred size.
Soak the balls lightly on flour. Shake off any excess.
Cook this homemade dog food recipe at 400 degrees F until cooked. Your baking time will depend on the size of your balls. The larger the ball sizes, the longer the baking time. Meatballs the size of donut holes take 25 minutes.
Raw Dog Food Cake
Ingredients:
4 cups chicken broth (unsalted and no onion)
1 large bunch of parsley
2 cups rice (white or brown)
8 large carrots
2 cups pumpkin puree
1 broccoli head
6 celery stalks
2 large yams (steamed or baked – oven or microwave)
4 large apples
Several cranberries (more if in season)
1/2 cup rose hips (dried and ground in a coffee grinder)
1/4 cabbage head (optional)
Other fruits – pears, peaches, plums (these fruits are okay for dogs)
Several green beans (or more)
12 eggshells or more (baked until dry then grind in a coffee grinder)
9 eggs (poached lightly then cooled)
Several snap peas (or any available peas)
1 cup peanut butter (more or less as it's used as a binder for the cake)
2/3 cup nutritional yeast
1 cup flax meal
2 cups rolled oats (1/2 whole and 1/2 ground in food processor/optional)
1/2 cup olive oil
Several blueberries (if in season, can turn food gray so it's optional)
Directions
Cook rice in broth the usual way you cook them. Then, let it cool.
Using a food processor, puree the yams including the skin.
Chop the fruits and vegetables finely or grind using a food processor. The finer it is, the better.
Place all the combined ingredients in a large bowl. Mix in the rest of the ingredients and stir.
Using a spoon or your hands, mix evenly until all the ingredients are combined and turned into a moist, squishy goo.
Align parchment paper or waxed paper on 2 large cookie sheets. Scoop out the mixtures and form them into cakes or balls. Then place them on waxed paper with just small spaces in between.
Let it freeze until hard. Store these homemade dog food recipe in airtight freezer bags. Thaw the stored cakes before serving.
Key Takeaway
If you're a dog owner looking for homemade dog recipes to feed your dog, the list above ends your search. While there are tons of dog food brands out there, carefully preparing your pet food is vital to your dog's health. Aside from the nutritious attributes, consider what your dog loves.
If you are interested in content marketing, please email [email protected]
Subscribe to our newsletters! Get updates right into your inbox