Here's a little tidbit: I'm a terrible painter, and my dogs are even worse. (I blame my complete lack of an artistic gene and their absence of opposable thumbs, poor things.) So when I received an invitation to review a digital pet portrait company in exchange for a canvas portrait of my dogs, I jumped at the chance. Honestly anything they produced was bound to be better than my shoddy work.
The process was easy on my end and the customer service was great. It can take forever to get a commission done, but there was hardly any wait time! The instructions for photo selection were clear, so the hardest part for me was figuring out which photos of my many thousands to send in. Before shipping the final product, they even sent a photo preview for me to look over to see if I was happy with the way it looked.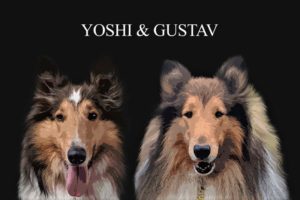 I was impressed by the results. (My dogs weren't. They're no art snobs, but the canvas portrait was neither edible nor shreddable. Or at least, they were forbidden from shredding their own lovely likenesses.) The best thing, in my opinion, is that you can have two pets done for the price of one. You don't even need to finagle them into posing side by side. I simply sent separate photos of my pups, and the digital wizards at Get Pet Portrait put them together into a composite photo.
There are also many style options to choose from. While I wanted simple, classy headshots, you can opt for something more whimsical. Your dog's head can be placed on a body dressed in old-timey attire, making history so much cuter. Napoleon Bonaparte as a dog. A former king of England? Also dressed as a dog, complete with crown. American Gothic never looked better than when its two subjects were a dog and a cat, I must say. Alternatively if you want to go more modern, your pooch can become a fireman or other civil servant, an astronaut, or an 80s rocker in a hair band. Your cat can be dressed in a suit or embellished with a fabulous toupee.
The price is also extremely attractive. I am not rich, so anything that won't break my budget is a beautiful thing. If you've ever looked into pet portrait pricing before, you know that having one done under $50 is a fantastic deal.
Full disclosure: if you make a purchase using my code, I will get a small commission. Thank you for your support!