Apple, the first cat we adopted from NSALA, underwent surgery to remove her mammary chain filled with cancer. She lived only a couple of months more. Leon Bear had a mass on his liver and didn't survive the surgery. Charlie Chunk had a cancerous mass in his abdomen. He died a week after surgery.
And now Yoda. In his lungs.
Given our experience, Howard and I decided that surgery for Yoda with pre-existing heart disease would be too risky. After much thought and consideration and numerous conversations with specialists, we've chosen to continue comfort care at home. We will look for any signs from Yoda of distress or discomfort and give him the gift of ending any suffering. It's gut-wrenching.
According to Cornell University's College of Veterinary Medicine Feline Health Center, here are some signs of cancer to watch for:
behavior changes like hiding
abnormal swelling
unintended weight loss
loss of appetite and energy
difficulty breathing, urinating, or defecating
Also, early spay/neuter can help protect cats (Apple's mammary cancer was probably the result of not being spayed until she was older. Neutering male pets eliminates their risk of testicular cancer as well as the possibility of developing something called benign prostatic hyperplasia, which can affect the ability to defecate.) As with humans, early detection is key. All vets recommend annual examinations, twice a year for animals more than 8 years old, and frequent oral exams (Oral cancers are common!) Visit the Cornell University website for more excellent information.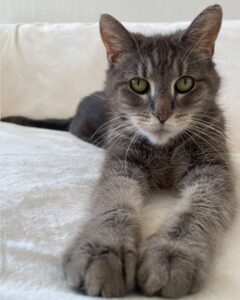 I'm going to close this blog now so I can spend a few moments with Yoda, my beautiful boy. I can't believe I've written so much, but it's important to share what Yoda is going through because it might help others.
I also want to remind you that November is Senior Pet Adoption Month. Cats like my foster Pearl Grey, who is wise, tender, and loving, are waiting for you at your local shelter.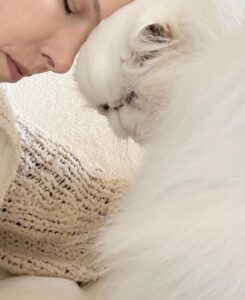 I wish you a beautiful Thanksgiving with those you love. Howard and I have much to be thankful for, beginning with fate, which brought Yoda into our life. And a special thank-you to the gazillion amazing and loving people who have reached out and asked how Yoda is doing. Gosh. He is so loved, which is truly comforting at this sad time.
xo
Beth
P.S. Just a reminder to order your copy of NSALA's limited edition 2023 calendar. Please visit animalleague.org/2023calendar for your copy, free with a minimum $15 donation. They make thoughtful holiday gifts, with net proceeds benefitting Bianca's Furry Friends Feline Adoption Center and cats like Yoda who need us all so much.