When Lick Sleeve reached out to me for a product review, I agreed to do it because the offer came at a good time. My big, clumsy puppy had just cut his leg, and I wanted to give him a break from being a lampshade all the time. Vakaa doesn't love wearing a cone – what dog does? – so I thought the Lick Sleeve might be a good alternative to try.
Turns out he really didn't mind wearing it at all, unlike the wraps and bandages we had previously used. He kept ripping those off whenever we weren't watching. The Lick Sleeve didn't bother him though, and it did do the job of preventing him from licking the wound. We primarily put it on him when he went outside, which kept dirt from getting into the cut.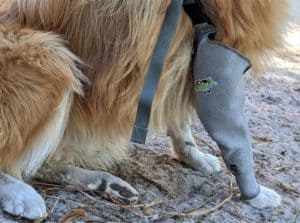 Lick Sleeve also sent a card with "Tips & Tricks" as well as "Incision Care." In addition, there are detailed instructions for putting on and adjusting the straps on their website, as well as a FAQ section to answer common questions people may have about the product.
One advantage Lick Sleeve has over other surgical recovery sleeves is its versatility. While primarily designed with rear legs in mind, it can be worn on a front leg as well. This is how Vakaa wore his Lick Sleeve, since his injury was to his right foreleg. The fact that it can be adapted for all four legs may make it worthwhile for those who would balk at the price, as it is more expensive than most similar products on the market.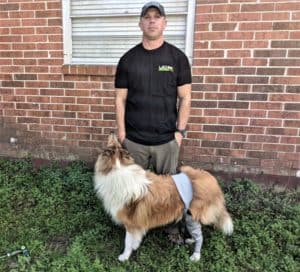 While the Lick Sleeve is designed to be breathable, I would not recommend them to be worn round-the-clock. Before having Vakaa wear his, I consulted with my good friend who manages a local vet clinic. She informed me that none of the veterinarians she has worked with at the Forever Vets chain of clinics advise surgical sleeves or suits to be worn 24/7, due to concerns about lack of airflow to the wound. Constantly covering an injury does not promote healing, she explained, and can actually lead to delayed recovery or infection.
Rather, it is best to use the Lick Sleeve in tandem with a cone. Vakaa's lick sleeve allowed him to have more outside time, as I had previously been concerned that his cut would become contaminated while out of doors. Especially with the somewhat sticky ointment he was prescribed, debris seemed to be very attracted to the injury site. In that way, the Lick Sleeve was a godsend.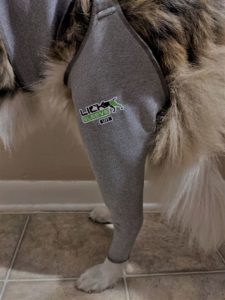 For sizing, most Rough Collies and Smooth Collies will need a large, which is designed to fit dogs 50-80 pounds (23-36 kg). It is also designed so the bottom portion of the sleeve can be cut off for big-pawed dogs, without the material unraveling. Another bonus is that the pricing for a Lick Sleeve remains the same no matter which size you buy.
Vakaa was mistakenly sent a medium size, but I just made it work by not wrapping it twice. (I'm guessing whoever packaged my Lick Sleeve thought I owned Border Collies, not their larger Rough Collie cousins. This shouldn't be an issue for people ordering through the website though.) Even though it was quite loose around his body and upper leg like that, he was a good boy and left it alone.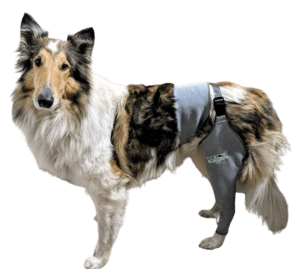 I was able to squeeze my smallest Collie, Yoshi, into the Lick Sleeve just for demonstration purposes. Yoshi weighs 53 pounds (24 kg) though, so it was snug on her. She was a good sport about being a dog model, but it wouldn't have been comfortable for her to wear for long. A medium size would probably be appropriate only for small female Collies weighing around 45-50 pounds (20-23 kg).
Overall, I would rate this as a good product. Lick Sleeve's money back guarantee makes this a risk-free item to try. For dogs who really, really hate wearing the cone of shame, this is a great opportunity to give them a chance to run around without smacking their wearable satellite dish into things!
What pet products have worked for you after a surgery or injury? Let us know in the comments! 
Note: Collie Chatter may receive a small commission of 1-3% if you purchase an Amazon item after following a link from our site, but this does not apply to Lick Sleeve products.