Petrified Forest National Park loves dogs! Wait one second … a national park that loves pets?! Yes, you read that right. Petrified Forest is a bit different from most national parks.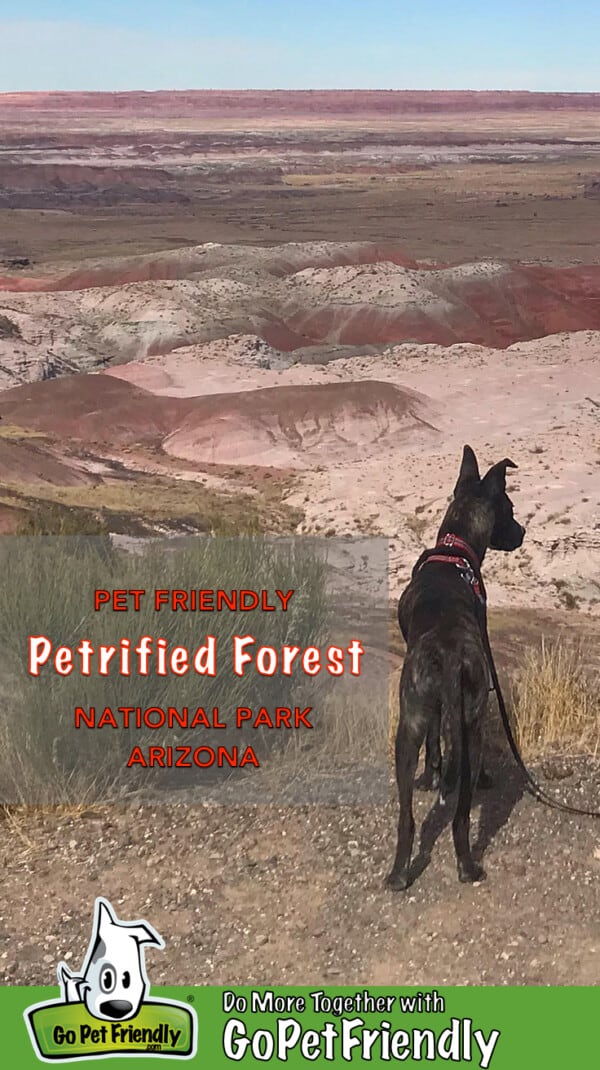 Petrified Forest might surprise you in a number of ways. First, you won't find a forest there – at least not in the traditional sense. And the park doesn't have any established campgrounds. Dogs, however, can go practically everywhere — it's encouraged, actually! Cool Whip and Hercules have already visited this national park twice and can't wait to go back.
How Was The Petrified Forest Created?
About 225 million years ago, this area was a rainforest with dinosaurs, ferns, and giant trees – all things Herc would have loved to sniff! As the trees fell, they were buried in river sediment and soaked up various minerals. These minerals caused the wood to crystallize into quartz in an array of colors. And that's how the petrified wood you'll see throughout the park was created.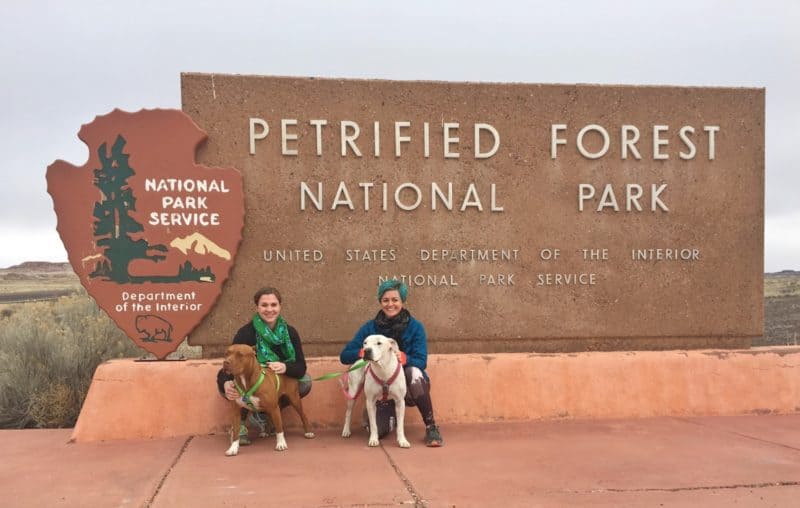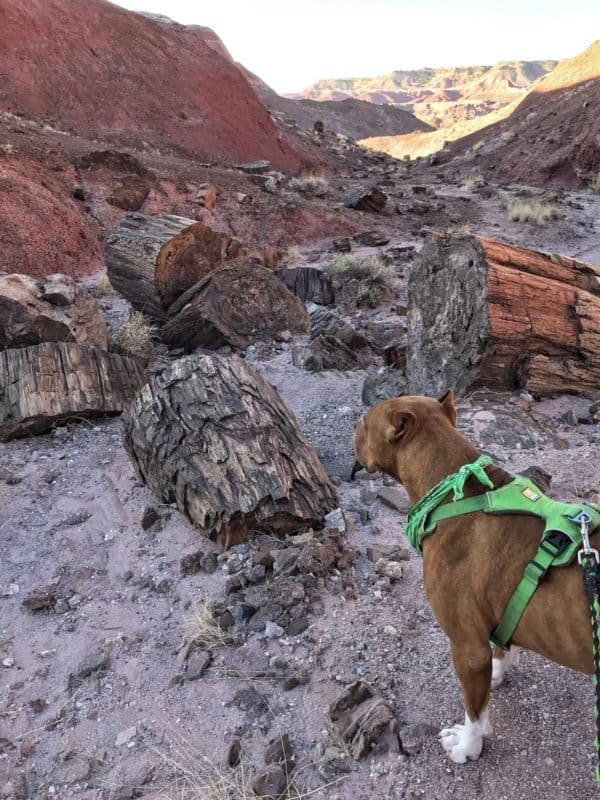 What Can You Do With Dogs At Petrified Forest National Park?
Petrified Forest National Park straddles the I-40 Interstate in eastern Arizona, making it easily accessible. And the $20-per-car entrance fee gets you access to the park for seven days.
There are visitor center/museums located on both ends of the park. And, while dogs are not allowed in the buildings, they can go on all the trails and in the backcountry, as long as they're leashed.
You can even stop by a visitor center to participate in the Bark Ranger program. You'll get a treat for your dog, guidelines for pet explorations, and information on how to share your pet's photos with the park — they really do love pets!
READ MORE ⇒  Other National Parks With BARK Ranger Programs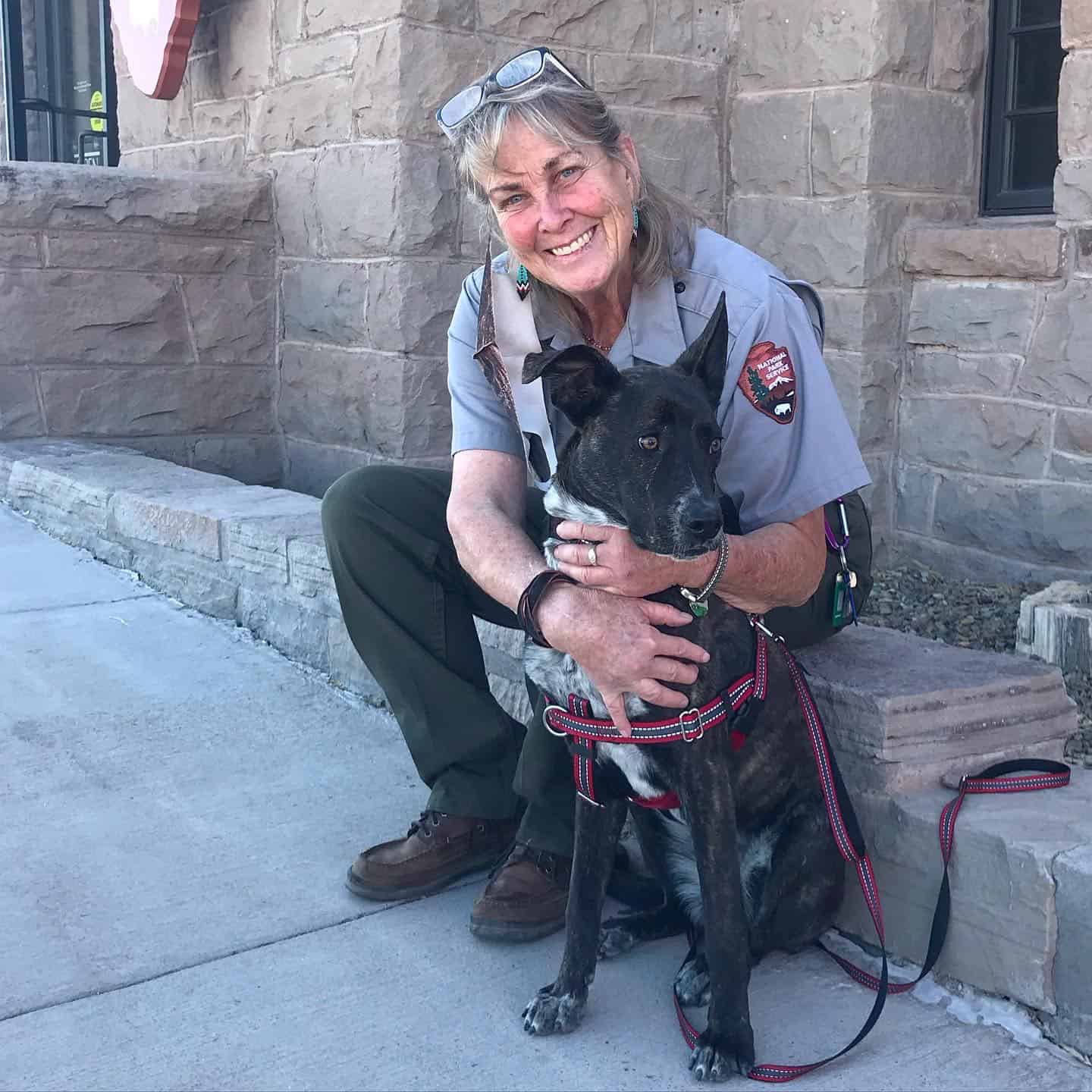 For the classic experience, plan to start your visit by driving the 28-mile road running through the park. Cool Whip and Herc highly recommend stopping at each overlook and trail to maximize the sniffing opportunities.
The seven designated hikes have various lengths:
Agate House: 2 miles
Long Logs: 1.6 mile
Giant Logs: 0.4 mile
Crystal Forest: .75 mile
Blue Mesa: 1 mile
Puerco Pueblo: 0.3 mile
Painted Desert Rim Trail: 1 mile
Don't Miss Our Favorite Trails!
The southern end of the park holds the greatest concentration of petrified wood. Herc loves the Long Logs and Giant Logs trails equally, because they both give him the opportunity to sniff some of those ancient trees.
The picture below shows us next to a medium-sized petrified log in the backcountry. (I am 5'4″ and the dogs are both 70 pounds.)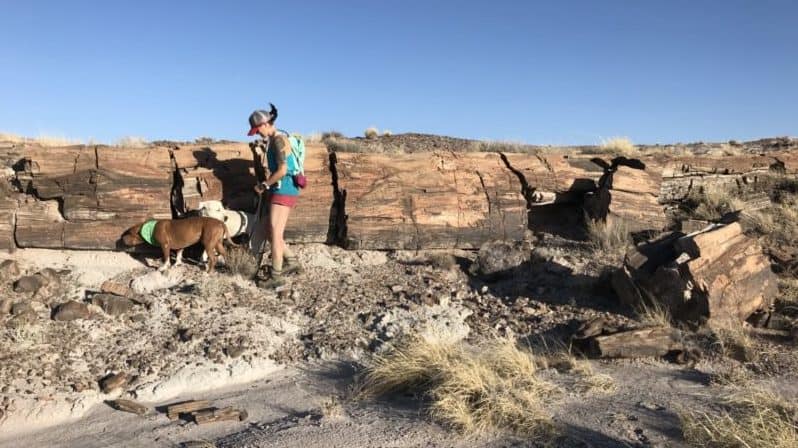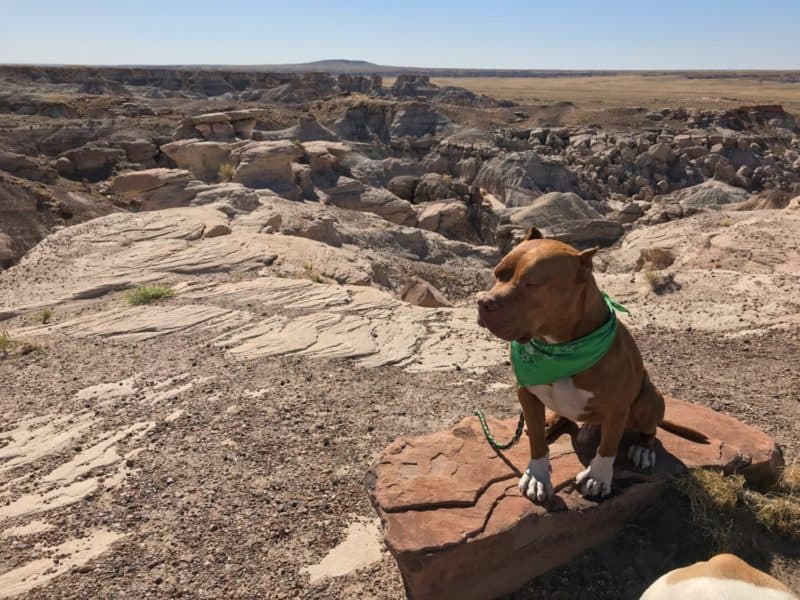 Blue Mesa is Cool Whip's favorite trail. We finally found a landscape where she's camouflaged! The path is paved but very steep down into the valley, so it's not for everyone. However, there are excellent overlooks on top if you're not able to traverse up and down the hill.
READ MORE ⇒ 7 Essentials For Desert Hiking With Your Dog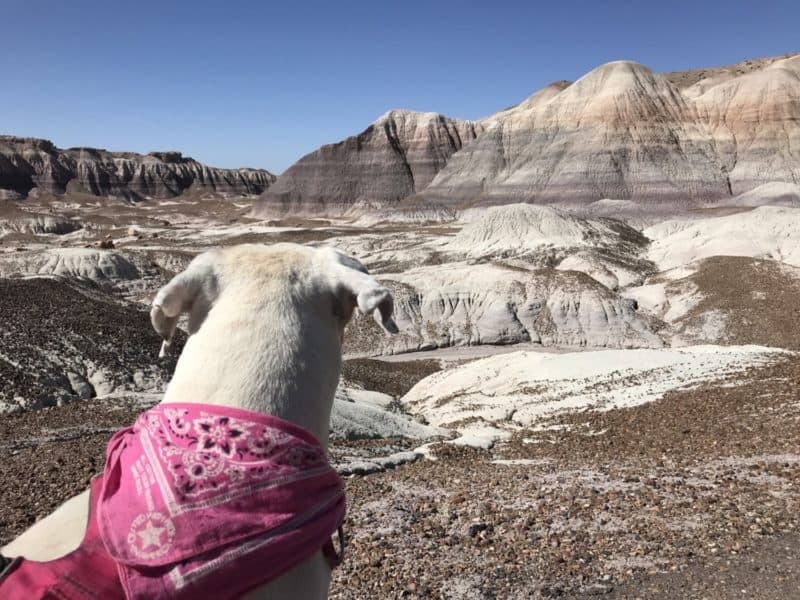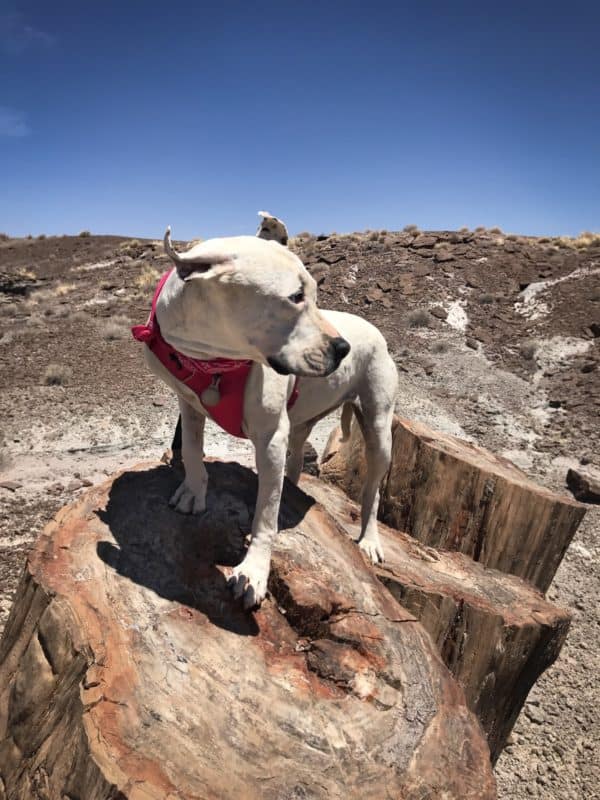 My favorite part of the park is the northern end, where the Petrified Forest meets part of the Painted Desert. This beautiful collection of mesas, buttes, and badland hills show off a broad spectrum colors depending on the various sedimentary layers.
The Rim Trail offers fantastic views of the desert as it follows the edge of the overlooking cliff. Also along the edge is the Painted Desert Inn, which has been turned into a museum and is recognized as a national landmark.
Behind the Inn is where you'll find the steep trail that switchbacks down the cliff into the valley and leads to most of the backcountry.
Cool Whip and Herc loved racing up and down the hills. They were less impressed when I made them stop for a photo.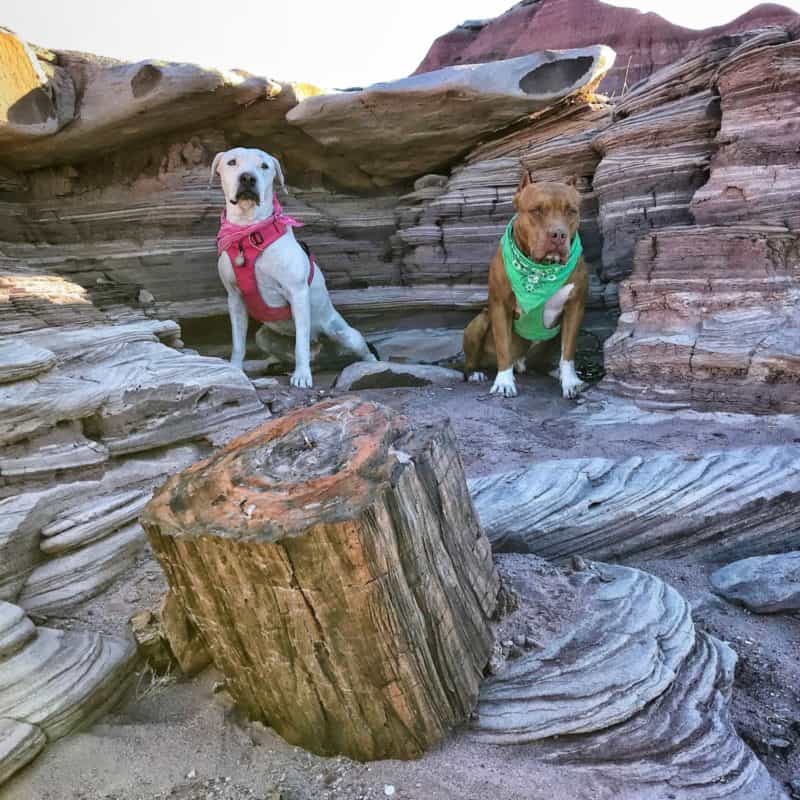 Exploring The Backcountry
For a more in-depth experience of Petrifed Forest National Park, you can take a day-hike in the backcountry or do an overnight backpacking trip. Actually, backpacking is the only way to spend a night in the park, and if you love stargazing, we highly recommend it!
While many parks have a designated trail system in the backcountry, Petrified Forest only has "suggested" routes. These routes take you off the main trails to some of less-visited but truly amazing features within the park.
Here are the suggested routes off the main trails:
Billings Gap Overlook: 3 miles
Blue Forest: 1.5 miles
Jasper Forest: 2.5 miles
Martha's Butte: 2 miles
Onyx Bridge: 4 miles
Red Basin: 8.5 miles
First Forest Point: 2.1 miles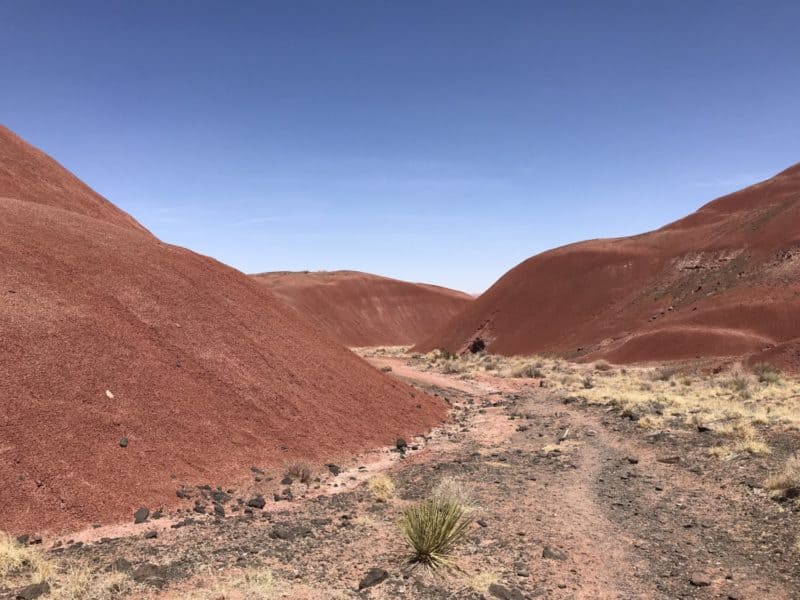 For backpacking, you'll need to obtain a permit from either the Rainbow Forest Museum (south end) or the Painted Desert Visitor Center (north end). The permit is free, but you have to read and sign off on the backcountry guidelines.
Keep in mind that you must camp at least one mile from a trailhead. With your permit, you'll also receive an assignment to one of the five backcountry zones and given a basic map. Beyond that, you're free to roam!
READ MORE ⇒ A Beginner's Guide To Camping With Dogs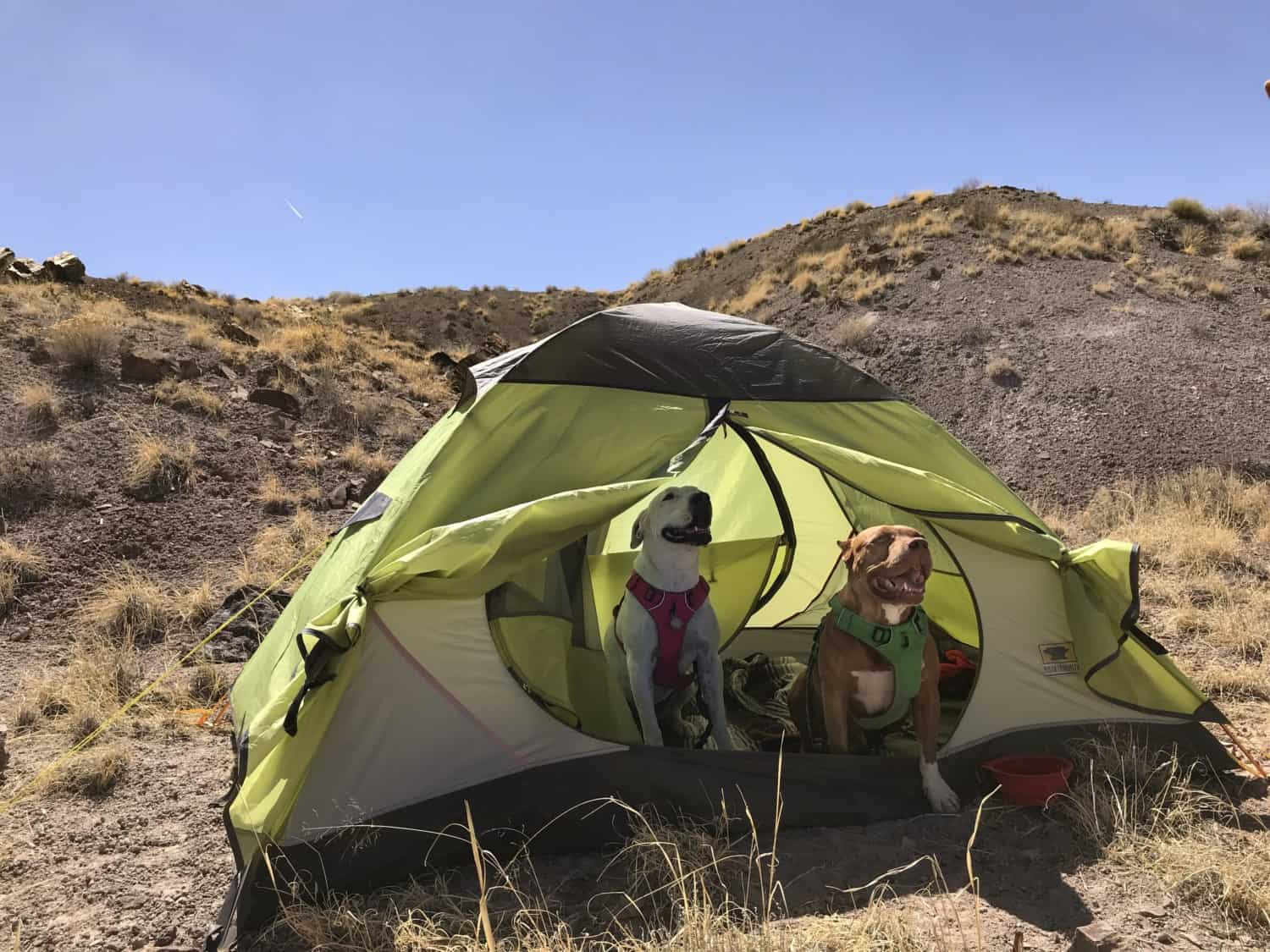 There is no water in the backcountry, so be sure to pack all the water you'll need for your excursion. The lack of water was Cool Whip's favorite part about this terrain — she does not like to get her toes wet!
Also, there are areas in the backcountry with rough terrain, so consider getting your dog used to wearing dog boots before your trip and put them in her doggy backpack.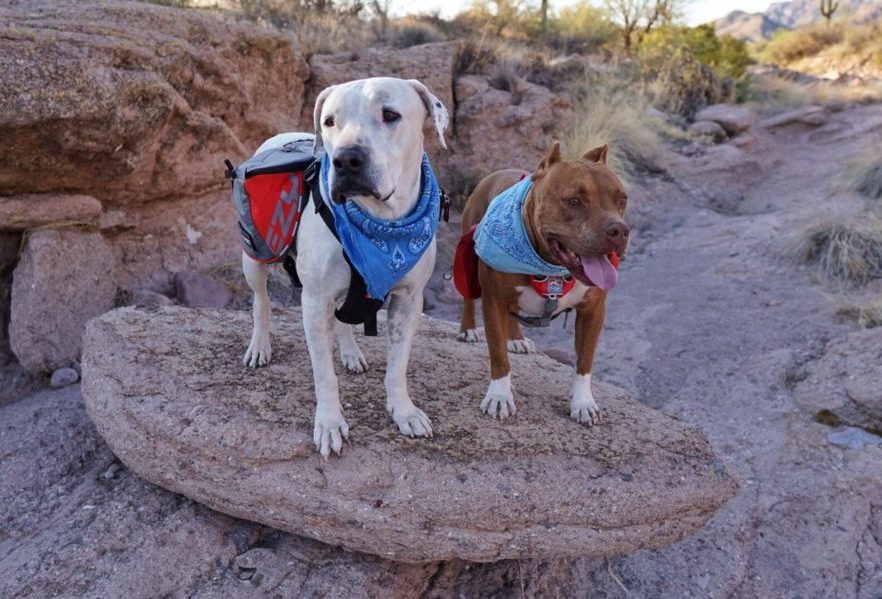 No matter where you go in Petrified Forest National Park with your dog, remember that you are in the desert and the weather can change quickly. We've experienced extremely strong winds on both of our visits. Fortunately, Cool Whip has preinstalled wind gauges (ear flaps) that monitor wind conditions. See them in action in this video:
We hope our experience encourages you to visit Petrified Forest National Park with your pets. This uniquely pet friendly national park should be on every dog's bucket list!
If you're not into camping, check out these pet friendly lodgings in nearby Holbrook, Arizona.
FIND MORE ⇒ Best Dog Friendly National Parks in America
(Visited 10,982 times, 1 visits today)