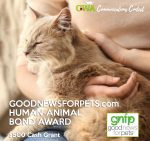 There's a new champion for therapy cats. Jen Reeder, an award-winning journalist and former Dog Writers Association of America president, won the GoodNewsForPets.com Human-Animal Bond Award during the October 16 Cat Writers Association annual awards event for her article "Meditating cat offers Zen-like support to kids affected by trauma" published on TODAY.com.
Upon receiving the award, Reeder said, "I wanted to enter my TODAY.com article about Thea, a remarkable therapy cat, because of the strong, loving bond she shares with her handler as well as the children she helps recover from domestic violence and other trauma. She seems to epitomize the human-feline bond in action. I am so honored to have won The Goodnewsforpets.com Human-Animal Bond Award for the article. I know how passionate Lea-Ann Germinder and her team at Germinder + Associates and Goodnewsforpets.com are about supporting nonprofits, veterinary professionals and pet writers who work to educate and inspire the public about the power of the human-animal bond, so this is very special. Thank you so much!"
To demonstrate her lifelong love of cats, Reeder also shared with us this adorable photo of her with her cat Fluff!
The judge for the award was Steven Feldman, President of the Human Animal Bond Research Institute, HABRI. Based in Washington, D.C., Steven channels his passion for animals into working with policymakers to strengthen the role of pets in society. Feldman commented,
"The importance of animals to help people recover from trauma often focuses on dogs, which is why the story of Thea, a 4-year-old Sphynx, resonated so strongly. The writer captured the power of the human-cat bond to help children survive and begin to recover from domestic violence, while also covering the topics of cat training and the loving nature that many cats possess. Thea the cat not only provided a direct source of comfort but helped build trust between the children and their human counselor – all the ingredients for healing. This is a well written story that touches the heart, as well as encouraging the valuable inclusion of cats as therapy animal."
About the Award
GoodNewsForPets.com has sponsored the Goodnewsforpets.com Human-Animal Bond Award for the Cat Writers Association Awards Contest for several years. The award recognizes the entry that best reflects and promotes strengthening of the human-animal bond, highlighting the bond between a cat and owner, as well as their relationship with their veterinarian as another direct caregiver. Entries can be single articles (print or online), features, columns, short stories, books, or poetry. The winner of this award receives $500 and a commemorative certificate.
Editor's Note: I have known Jen for many years during our work with the Dog Writers Association of America. She is not only an award-winning writer, but an extrordinary caring person and natural leader. Her commitment to educating the public on how pets, and in this case, cats, benefit our lives is both inspiring and unwavering. We are not only pleased to sponsor this award once again but thrilled Jen Reeder was the recipient. Congratulations once again Jen, and we are glad you love cats too!" — Lea-Ann Germinder