Dr. Scott Bugai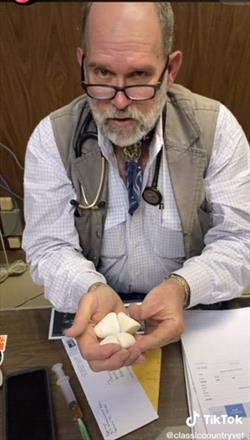 VIN News Service screenshot
Dr. Scott Bugai handles four white rocks, explaining to his daughter in a TikTok video that they came from the bladder of a dog weighing 35 to 40 pounds. "This dog was in misery for a good while," he said in a two-minute clip. "But, we solved the problem, removed the stones. The dog lived happily ever after."
Dr. Scott Bugai tends to resist technology. The 57-year-old veterinarian in Texas would rather view his patients' records on paper than on a screen, and he uses a checkbook to pay bills at his mixed-animal practice. 
So it's surprising to him — not to mention to his friends and acquaintances — that he's become something of a TikTok sensation, generating more than 600,000 followers and 7 million likes of his channel, Classic Country Vet, since it went live last August. The video platform at the forefront of social media is an outlet for creators who offer content for short attention spans. TikTok is the third most-used social media app by users ages 12 and up, behind Instagram and Facebook, according to a recent survey of digital media consumer behavior in America. With more than 1 billion users around the world, the platform owned by a Chinese company, ByteDance, has raised concerns that China's authoritarian government might seek to control TikTok content and data for its own purposes. 
But so far, the concerns seem hypothetical, and TikTok typically projects a vibe of fun. Its seconds-long videos feature everything from choreographed dancing and singing to recipes and news. The platform appears to be a new frontier for veterinary medicine, too. 
Hundreds of practitioners use the app to post surgeries, share funny stories or lament the profession's darker realities. Bugai's channel often features the veterinarian seated behind a desk for a series titled "Going through the treasure cabinet of an old-school veterinarian" or tending to various animals at the practice. 
"To think that I'm on social media is a shock to people who know me," he said in his Texas drawl, with a chuckle. "I'm just the content, not the talent."
Bugai, a full-time practitioner for 32 years who also runs a hunting ranch and deer breeding service, credits his tech-savvy daughter, Darian, and her wife, Katie, for his newfound stardom. The duo, operators of Right Choice Shearing, regularly chronicle their traveling shearing service for 2.5 million followers. Asked what would compel so many people to watch sheep shearing, Bugai pondered before answering. "It's gay women in a man's business, and people like unusual stories," he reasoned.
The veterinarian doesn't have a ready answer for what's drawn viewers to his own TikTok channel, though he credits himself a "natural-born storyteller." His presence on TikTok, Bugai said, was his daughter's idea. 
"I let her handle all of the production," he said. "And I've got a lot of stuff to talk about, right here in my office."
Videos on Classic Country Vet often begin with the question, "Hey Daddy, what's this?" as Darian plucks an object from a cluttered curio cabinet. On one occasion, she handed Bugai a bowling-ball-sized papier-mâché mass that he peered at over his glasses.
"This came out of a white-tailed deer's rumen," Bugai said, examining the ball. "You can see this stuff right here is shade cloth." Breeders install the cloth around fences, he explained, to make the deer they raise feel safe from predators.
It becomes a problem when deer decide to eat it. "That's pretty gross," Darian offered, to which Bugai agreed. "Yep, it was pretty gnarly."
While endearing, their father-daughter rapport hasn't generated nearly as many comments as a series of posts about four puppies dumped last September at the door of Bugai's practice.
"This is what I found on my porch this morning when I got to work," Bugai said in one of his first posts. "… I guess they couldn't take care of them, didn't want to, and thought it was our responsibility." He treated the puppies for fleas, intestinal parasites and ringworm. 
The saga went viral, with the most popular episode drawing 26 million views. Bugai gave updates about the health of the pups, which he later put up for adoption. But the series wasn't all cuteness and hearts.
Some commenters suggested that he might have financially benefited by caring for the litter. Bugai defended himself soberly. "Dumping is wrong," he said in a video. "And whoever that is out there who thinks this is a tax write-off for veterinarians, you obviously have never run a veterinary clinic. It is not a tax write-off. When people do this at veterinary clinics, it's because they care."
He followed up with a series of videos about alternatives to dumping unwanted animals at veterinary practices. 
Aiming to be fun and educational
Dr. Adam Christman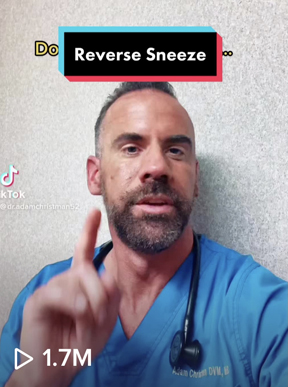 VIN News Service screenshot
Dr. Adam Christman offers tips for issues such reverse sneezing, a condition called paroxysmal respiration, in which dogs suck in air rather than blow it out. "Gently close the muzzle, one finger over one nostril, and it will stop," he said in a TikTok video that's generated 1.7 million views since May 1.
A love for animals combined with an aptitude for all things media has made Dr. Adam Christman one of TikTok's biggest veterinary personalities.
Christman, 44, is a self-described Disney fanatic. Big into fitness, media and veterinary medicine, he posts daily with advice for pet owners on food, toys and medical care. Often recording outside of the exam room, Christman can be seen traversing New Jersey pet stores with his three dogs. Through 700 videos and counting, Christman has amassed 800,000-plus followers and has parlayed his media presence into a job with the publishing firm DVM360, where he works as chief veterinary officer and hosts a podcast. On weekends, he works in a Mount Laurel, New Jersey, veterinary practice.
Introduced to TikTok in July 2019 by his teenaged niece, Christman said he creates content that's fun and educational, with the help of his husband, Chris, who holds the camera. Most of his content is informative and positive, made with veterinarians in mind.
"I want to protect this profession, raise it up," Christman said in an interview. "I'm always saying, 'Ask your veterinarian about this.' "
Some of the videos that Christman uploads on TikTok also can be found on his YouTube channel and Instagram page. "I like to cross-pollinate," he said, referring to the multiple venues. He credits rapport with colleagues and clients alike for his popularity on social media.
"It's one thing for a vet to have a following of pet owners, and it's another to have it for both veterinarians and pet owners," he said. "And I have the honor and privilege of knowing both audiences." 
He sometimes dabbles in advertorial brand deals, promoting companies such as Chewy. Asked if he generates income from his TikTok posts, Christman responded that earnings from the platform are minimal. "You definitely can't live off of it," he said. "I have not made more than a couple of thousand dollars since I've been on TikTok."
To generate more audience interaction, Christman has begun to host live videos on TikTok and elsewhere. Recently, he started a web-based talk show, "dvm360 LIVE!" that features interviews with colleagues. 
Reflecting on his stage presence, he said: "I've always been told my personality is bigger than the exam room."
A window into life, practice 

Dr. Courtney Deer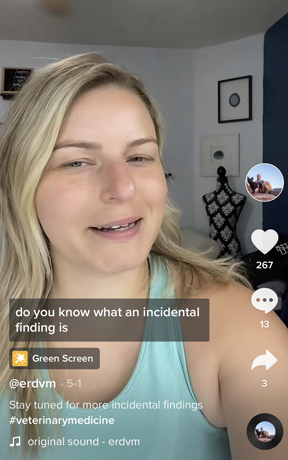 VIN News Service screenshot
Dr. Courtney Deer, a practitioner who works the night shift at an emergency practice in Mesa, Arizona, became a TikTok sensation when she began posting videos of her French bulldog puppy, Sybill.
When Dr. Courtney Deer recorded her tiny and sickly French bulldog puppy hopping across the floor, the 33-year-old emergency veterinarian in Mesa, Arizona, was just amusing herself during the locked-down period of the Covid-19 pandemic. She didn't anticipate that the five-second TikTok video she posted to TikTok would go viral.
"I woke up and looked at my phone and had all these notifications. It was nonstop. At that point, I think I had 1.8 million views," Deer recounted, crediting some of the attention to the fact that she attached a silly song about chicken wings to the video. "Sometimes, songs that are trending will push the algorithm and get your content a little higher," she said. 
Views of the video eventually reached 2 million. It was September 2020, and like others navigating the pandemic, social media became Deer's creative outlet and go-to for communication. In between clips of Sybill's adventures in the car, relaxing in a pool or getting snuggles, Deer chronicled the pup's health journey, which involved surgeries to correct megaesophagus and persistent right aortic arch — a congenital condition that prevented the dog from swallowing food.
At the end of November, Deer shared that Sybill still could not eat normally despite medical interventions.
"We have been trying to feed her by mouth because that's ultimately the goal, and haven't been super successful," she said. "… If she has to have a feeding tube for the rest of her life, that's not a good quality of life for her."
Sybill was euthanized on Nov. 27, 2020. "We will miss this little girl with all our hearts," Deer wrote in a video montage of the puppy. Sybill's fans shared her owner's grief, offering words of support.
On other topics, viewers aren't always supportive. Deer said she's been trolled for her videos on hot-button topics such as vaccines or the link between diet and dilated cardiomyopathy. "People will say that I'm wrong or that I'm killing pets and being paid by 'big kibble,' " she said. "If I post something about raw food, I know that I will be decimated by a small number of people. It's hard not to take it personally, so you have to be at a mental place where you can handle it."
Deer sometimes blocks combative commenters. That came in handy for a four-part series she coined "The Dark Side of Veterinary Medicine," in which she discussed challenges of the profession, such as the cost of education and student debt, internship and residency salaries, and suicide.
"One in six have contemplated 'unaliving' themselves, and we are 2.7 times more likely than the general public to go out this way," Deer said in part one of the series. "… I lost a classmate to this my second year of vet school, and I will never forget it."
Though the series didn't take off like the videos of Sybill, Deer said she's proud of the content: "My goal is to make it so fewer people come into my ER, in a good way." She tries to balance her videos between educational — why is it so easy to inadvertently overdose or underdose insulin? — and light-hearted topics. "I love to share cool client stories, like the time an owner wanted to keep her dog's eyeball after we removed it, to scare her husband," she said.
The unusual and macabre are part of Deer's repertoire. In one of her videos, she confirms that it's common for animals to feed on the bodies of deceased owners. In another, she tells of a classmate from Tanzania who told of a "fun childhood memory" that involved slapping hippos on the rump and running.
"Allegedly, hippos can't turn around very fast, and that's how they got away with this," she shares in the video. "I have no idea if this story is true or not, but it has stuck with me for over 10 years."
If those don't do enough to convey Deer's relatability, there's a video in which she uses wit and sarcasm to depict how she's felt when trying to describe a heart murmur on the phone to a veterinary cardiologist.
"Do you ever feel dumb talking to a specialist?" Deer asked. "Oh, yeah, me either."
VIN News Service commentaries are opinion pieces presenting insights, personal experiences and/or perspectives on topical issues by members of the veterinary community. To submit a commentary for consideration, email [email protected].