With the red and white walls of Navajo sandstone towering 2,000 feet above you, hiking with your pet in Zion National Park is an experience you'll never forget!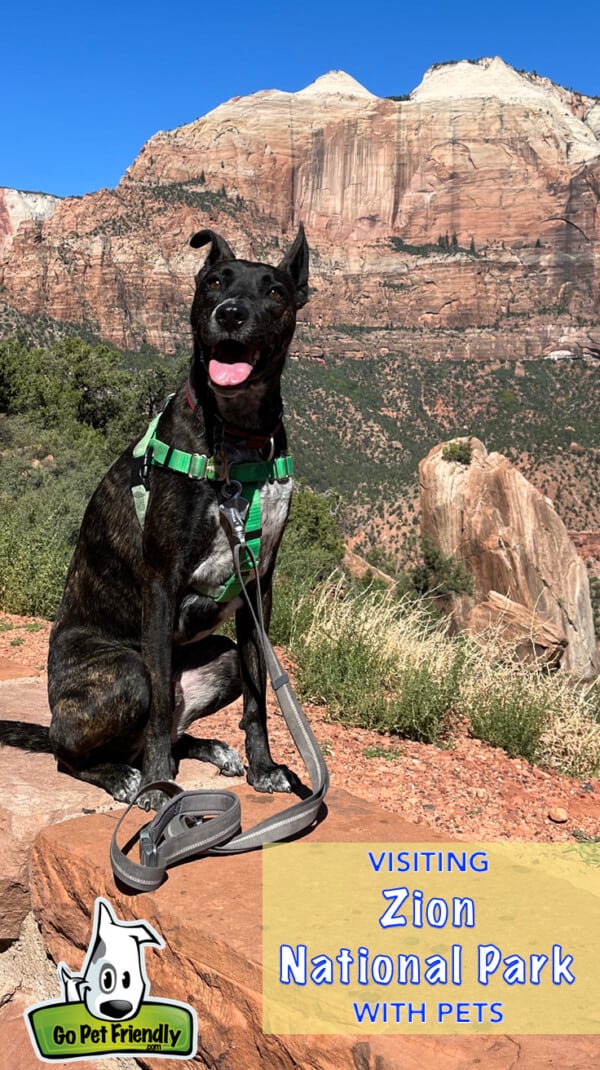 Zion was Utah's first national park. And as you walk along the Virgin River, looking up at massive sandstone cliffs soaring into a brilliant blue sky, it's easy to see why! But how much of Zion National Park can you see with pets? We did some paws-on-the-ground research to answer that question.
Zion National Park
Located in southern Utah, not far from Bryce Canyon National Park and Dixie National Forest, Zion simply breathtaking. With elevations in the park ranging from 3,600 feet to 8,700, the park protects an astonishing variety of wildlife, plants, and breathtaking landscapes.
The best time to visit Zion National Park with pets is anytime but summer! The park saw five million tourists in 2021, making it America's 2nd most-visited national park. And in addition to the crowds, the summer temperatures at Zion can be downright dangerous. During our visit in late August, the highs on the canyon floor reached 104 degrees!
For a more tranquil visit, consider visiting Zion in winter. Whereas 550,000+ visitors descend on the park during the July peak, December and January each historically see around one-fifth as many people. And though it's the middle of winter, the daytime temperatures often reach a lovely 54 degrees — perfect weather for exploring with your pup!
For our RVing friends: Plan to arrive at Zion's South Gate. Coming in the east side of the park means passing through a historic tunnel. Nearly all RVs, buses, trailers, fifth-wheels, duel-wheel trucks, campers, and boats require traffic control, meaning the rangers must stop oncoming traffic for you.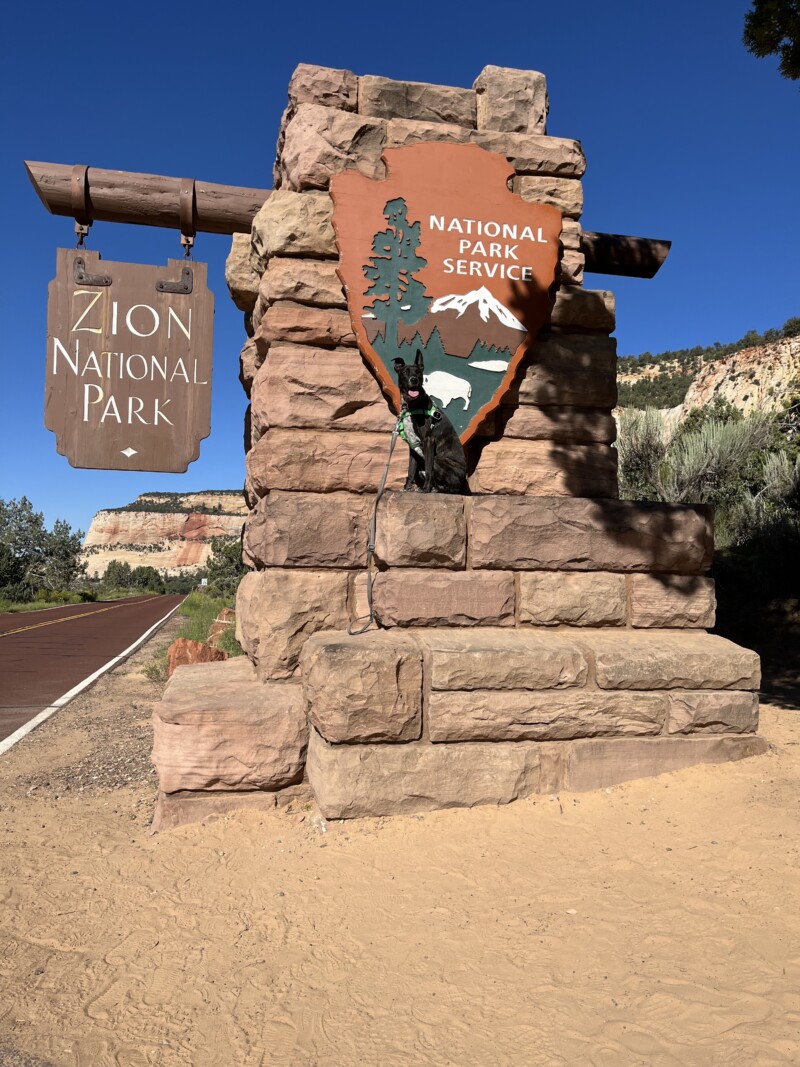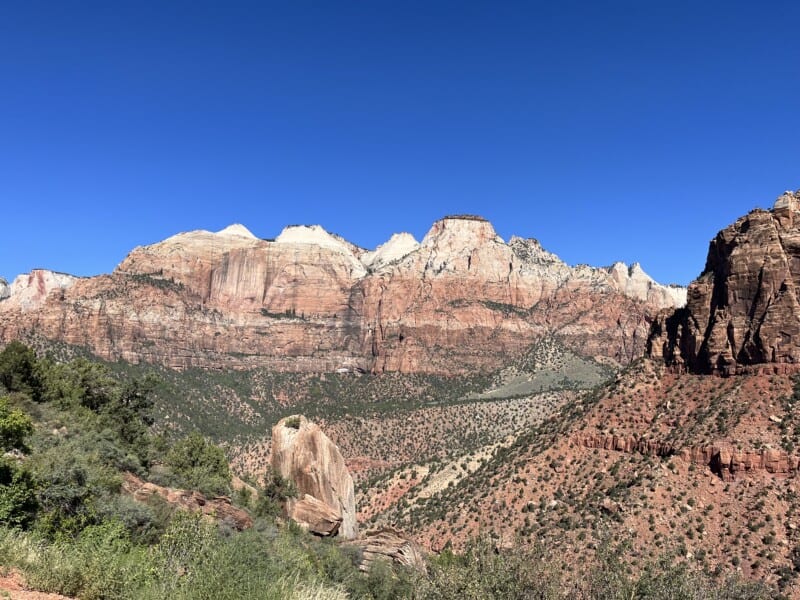 Pet Policy At Zion National Park
At Zion National Park, leashed pets can join you on all paved surfaces. This includes along public roads and parking areas, in the developed campgrounds, at all 22 turnouts along Hwy 9 (Zion – Mount Carmel Hwy), and on the Pa'rus Trail. In addition, pets are welcome in the picnic areas and on the grounds of the Zion Lodge.
Pets cannot go on any other trails, which means hiking together at Zion is limited. But read on — we have a pet friendly hiking solution you're going to love!
Finally, pets are not permitted in wilderness areas, on shuttle buses, or inside any park buildings, including Zion Lodge.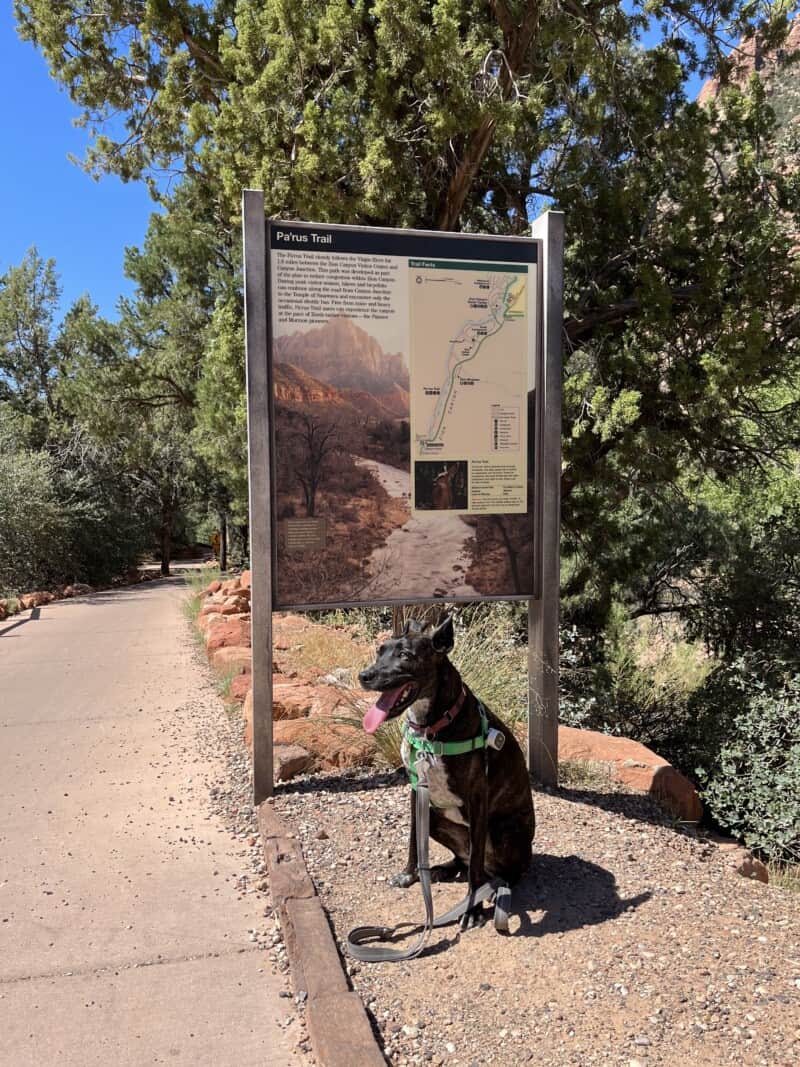 What To Do With Pets At Zion National Park
There are two entrances to Zion National Park, the East Gate and the South Gate. If you arrive at the East Gate, you'll almost immediately be engulfed in the monumental scenery. If that's the case, make your way toward the visitor center. But stop at each of the turnouts to take in the massive sandstone cliffs in cream, pink, and red.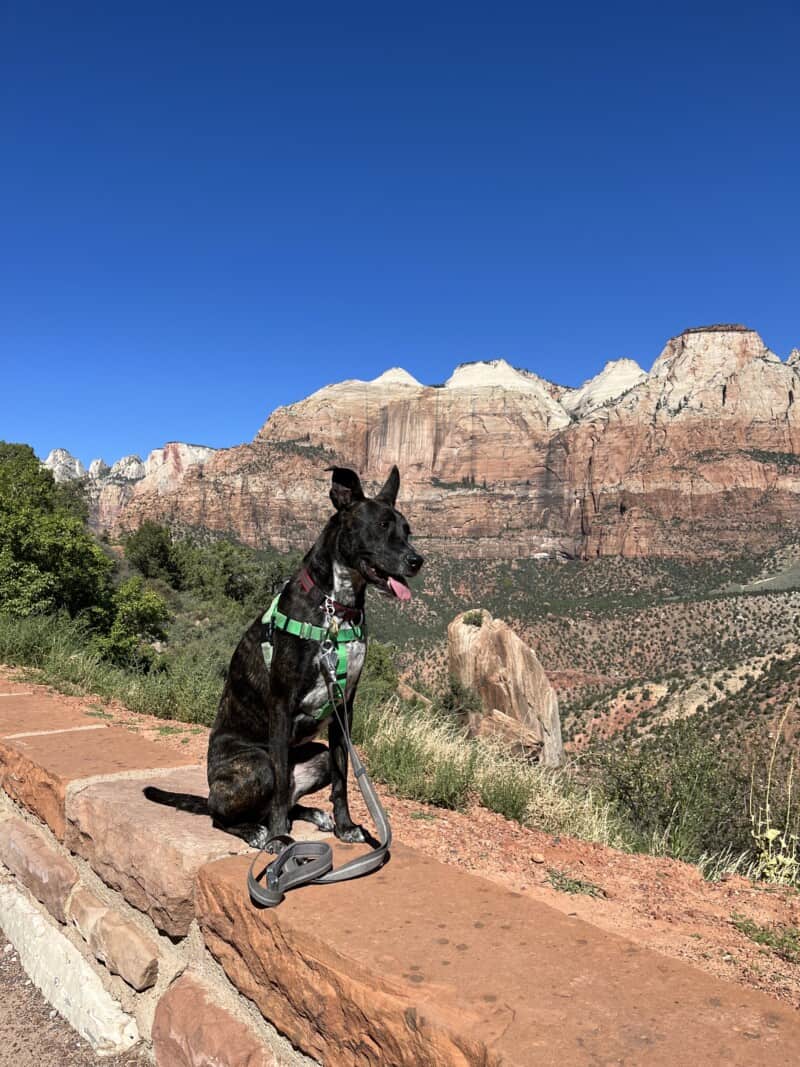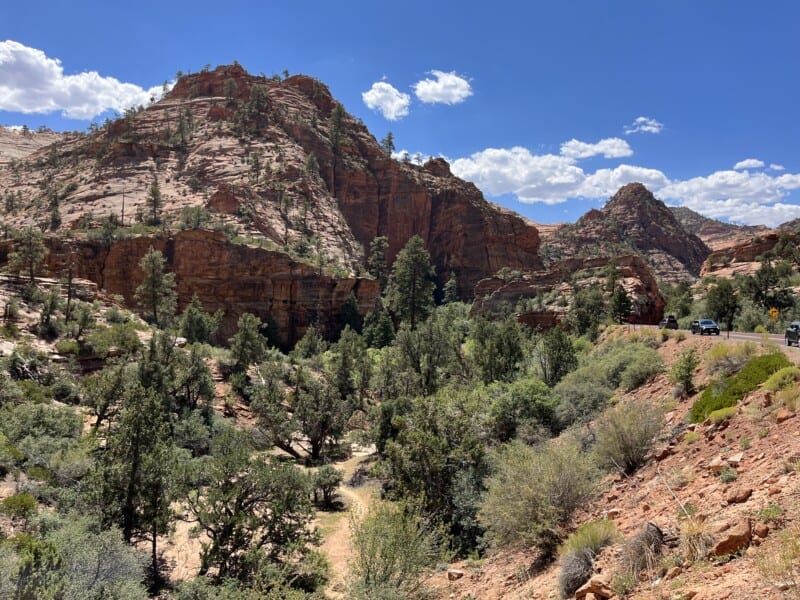 Walk Zion's Pet Friendly Pa'rus Tail
When visiting Zion National Park with pets, be sure to have a look around the visitor center. Pets are not allowed inside, so take turns viewing the 22-minute orientation film and exhibits. Pick up your pet's BARK Ranger tag, and then it's time to hit the trail!
READ MORE ⇒ 59 National Parks Where Your Dog Can Be A BARK Ranger
From the visitor center, walk across the road and the bridge spanning the river to pick up the pet friendly Pa'rus Trail. Following the Virgin River through the canyon, the trail runs 1.8 miles to Canyon Junction.
Plan to spend a couple of hours walking the trail. Or pack a picnic and spend more time. And for a longer walk, read on to the section about Zion Canyon.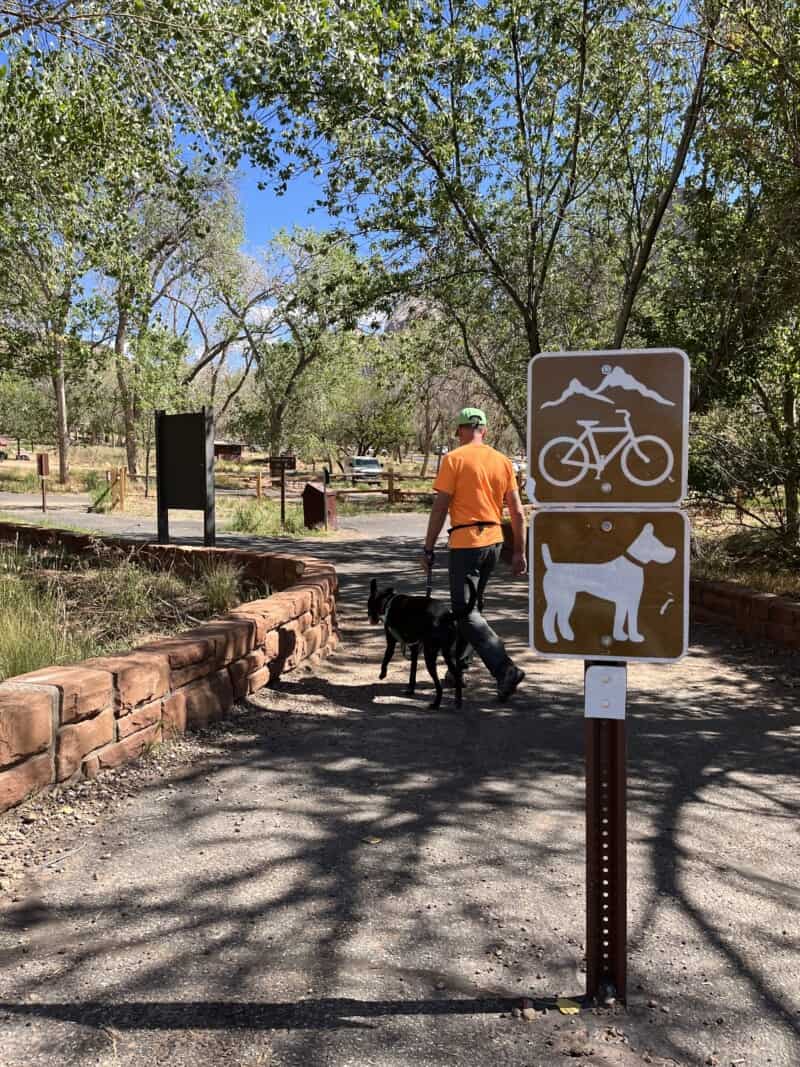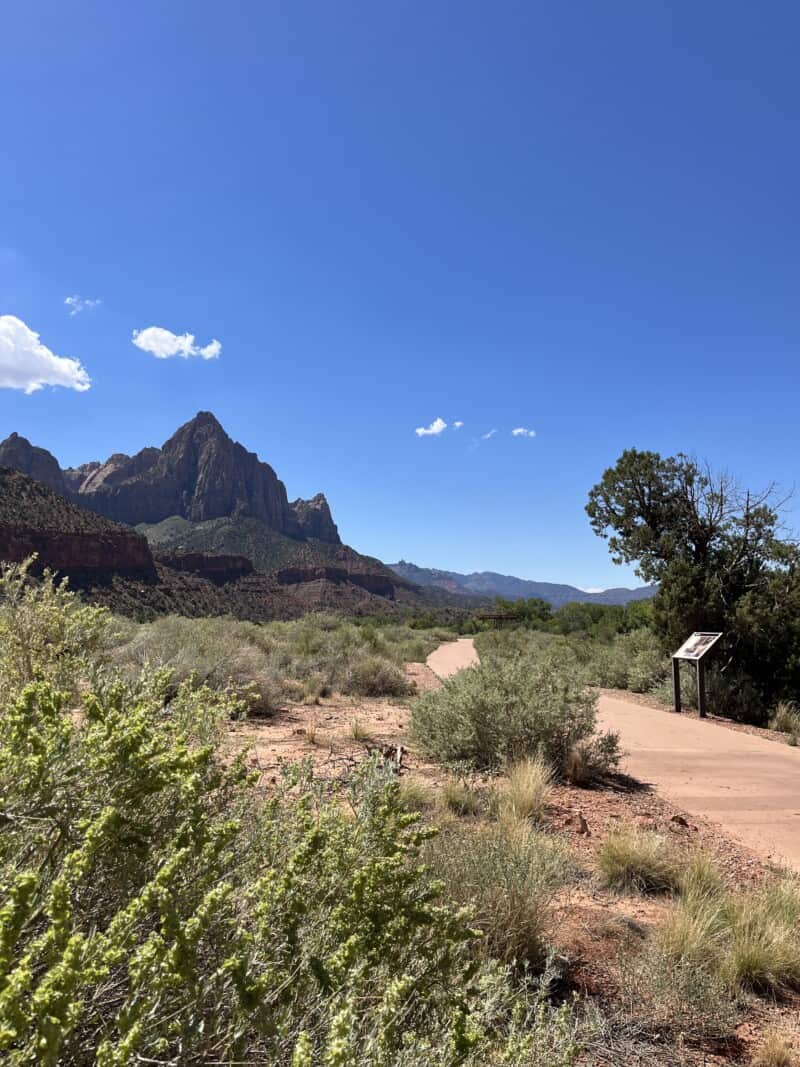 Keep Pets Safe On The Pa'rus Trail
If you're visiting Zion with your pets during the summer, plan to walk the Pa'rus Trail early in the morning or around sunset.
It get HOT! And there's not much shade. And cooling off in the river isn't an option. Zion monitors for the presence of harmful cyanobacteria and cyanotoxins in the Virgin River within the park. These toxins can be present at any time, so keep your dogs leashed and out of the water. 
It's also a good idea to pack your dog's boots! There are several bridges on the Pa'rus Trail, and on sunny days the composite material the decks are made of gets very hot. Before your pet walks on the bridges, touch the surface to be sure it won't burn his paws.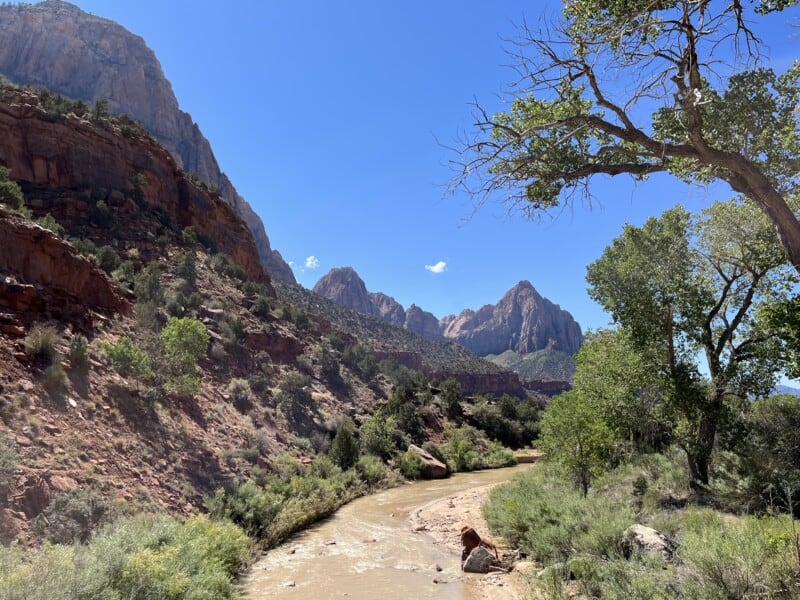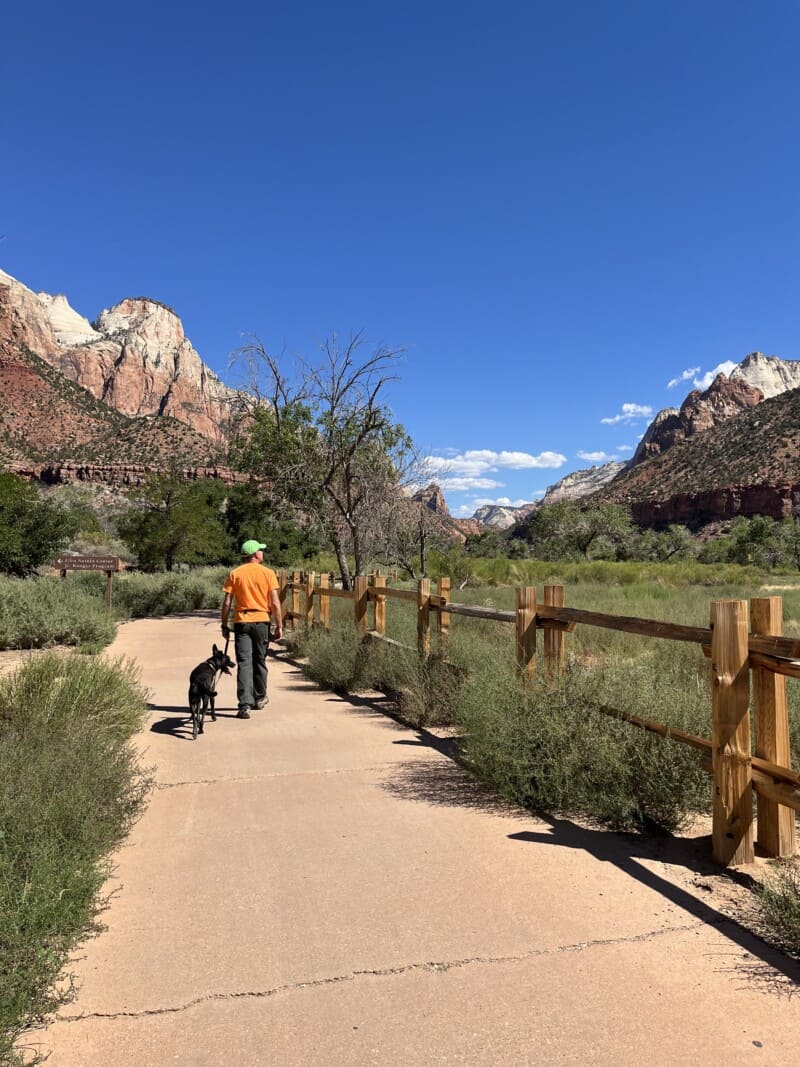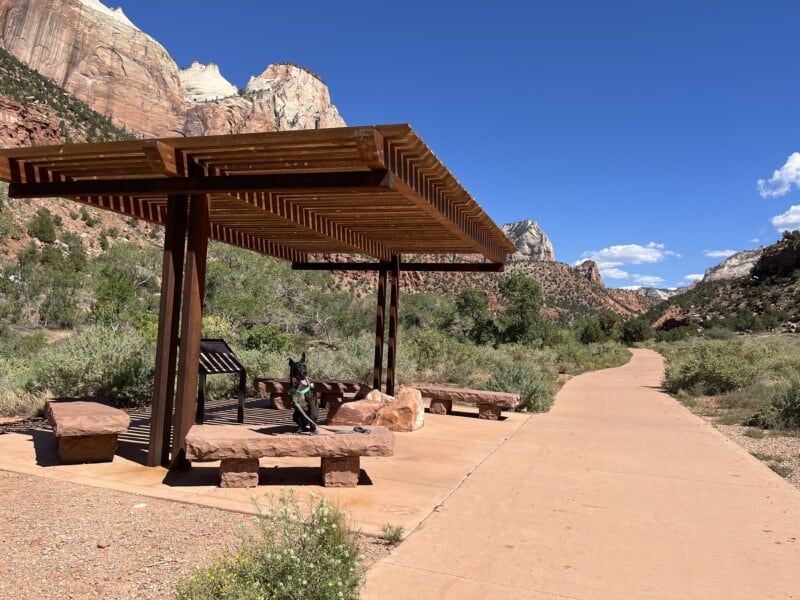 Enjoy The Views
If you arrived at Zion's South Gate, after checking out the visitor center and walking the Pa'rus trail, drive to the East Gate and enjoy the turnout along the way.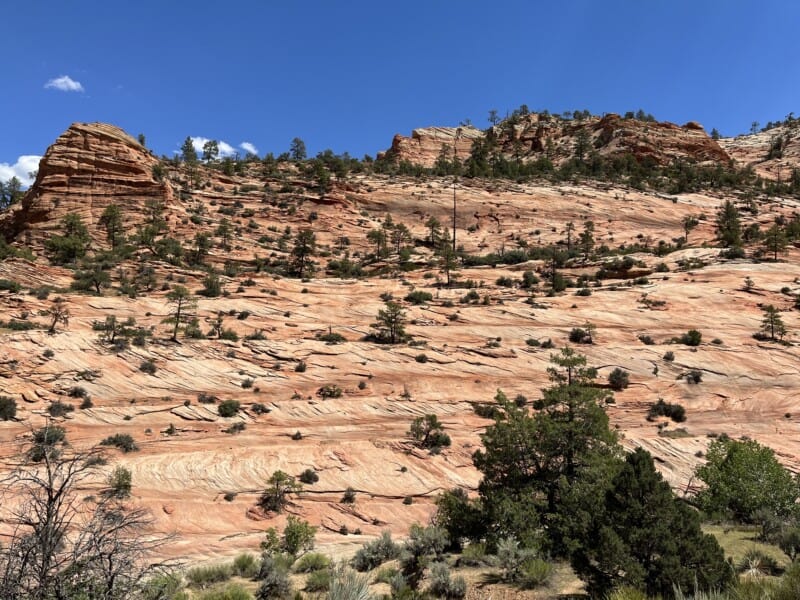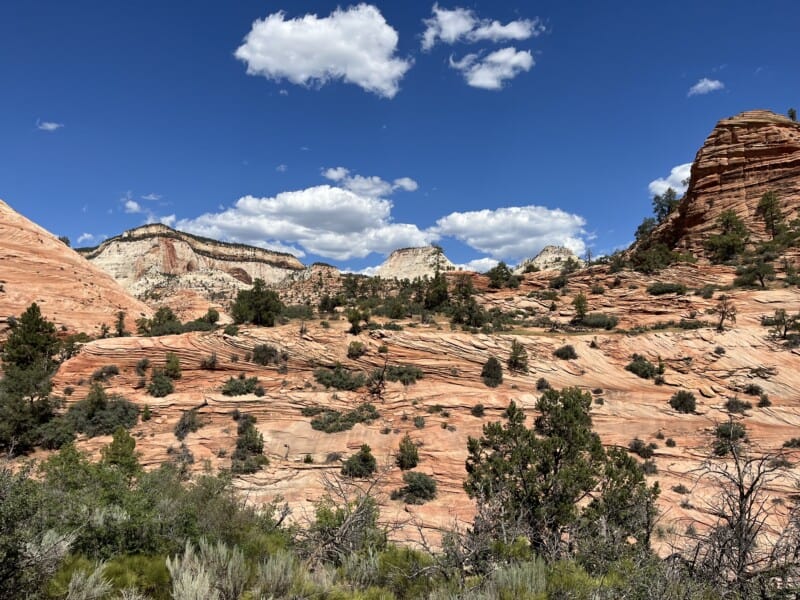 Seeing Zion Canyon With Pets
The main draw at Zion National Park is Zion Canyon. This is where the world-famous hanging gardens, waterfalls, and Zion Lodge are located. During most of the year, access to Zion Canyon is open to shuttle buses only. And pets aren't allowed on the shuttles.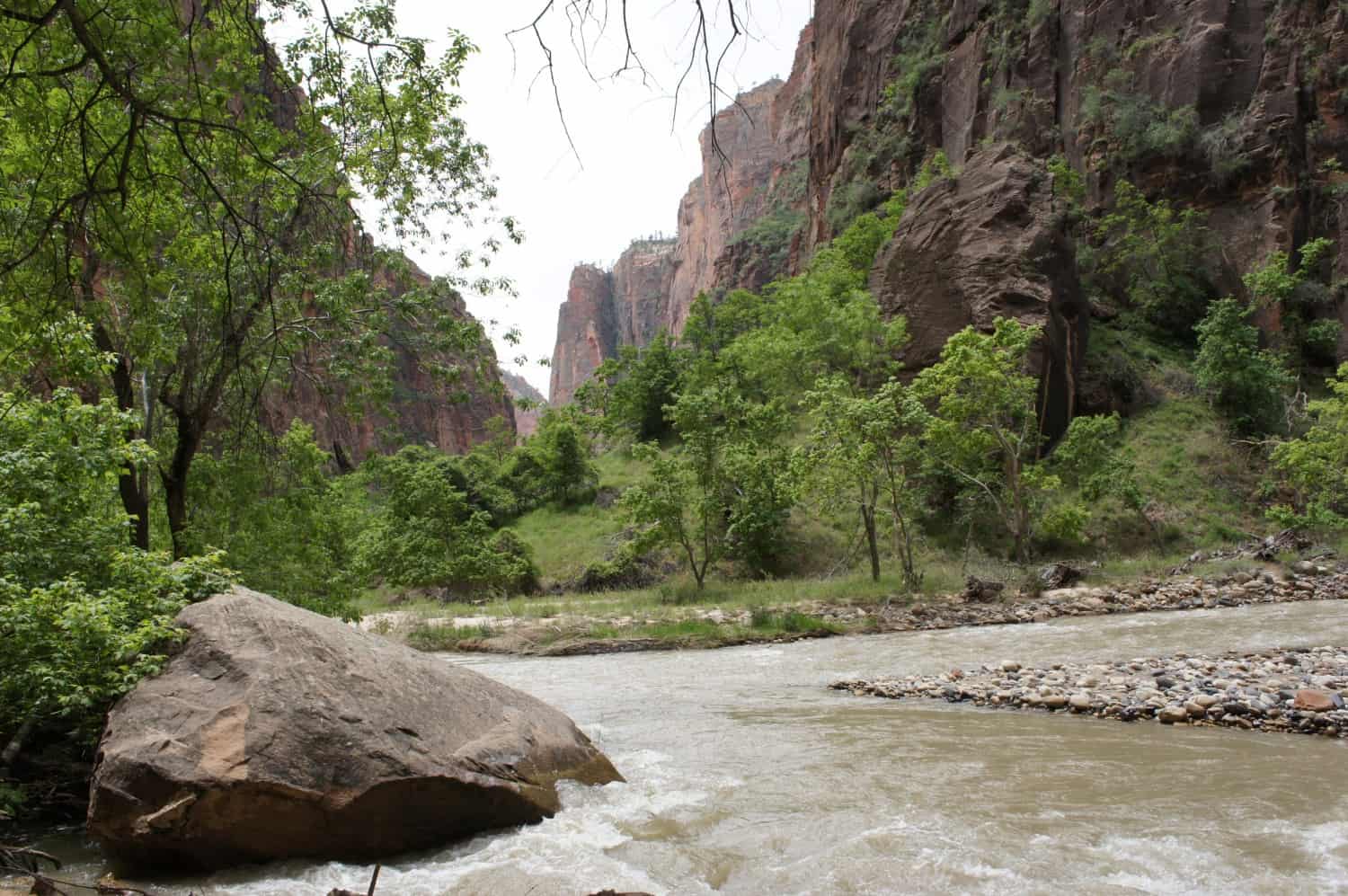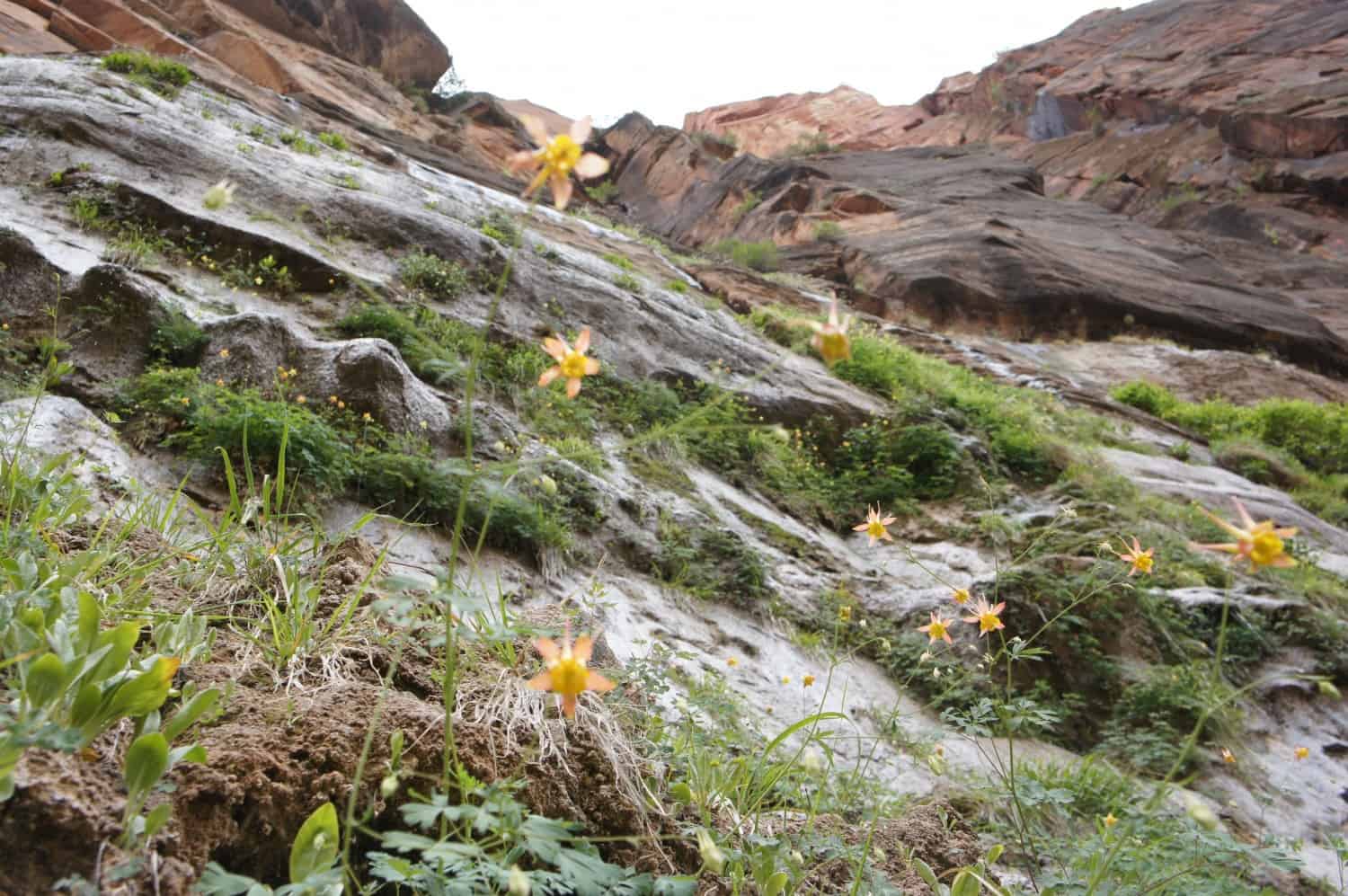 Of course, you could take turns seeing Zion Canyon on the shuttle. Or you could find a local pet daycare or boarding facility for your furry travel buddy. But if you want to see Zion Canyon with your pets, you have two options.
The first is to walk or ride a bike. Pets are welcome along all paved roads in Zion. And most of the year, the only traffic on Zion Canyon Scenic Drive is the shuttle buses. Take the Pa'rus Trail 1.8 miles from the Visitor Center to Canyon Junction, where the road closure begins. From that point, it's 5.9 miles to the Temple of Sinawava at the end of the road.
Your second option is to visit Zion when the shuttles aren't running. (That's why we initially suggested planning your trip for December or January!)
During most years, shuttles run:
Daily from March through November.
On weekends in February and March.
For the holiday season near the end of December.
Zion's shuttle service shuts down from the end of November until just before Christmas. And during that time, Zion Canyon Scenic Drive is open to private vehicles. It's your window to drive the famous canyon with your best friend. Just remember that pets must stay along roadways or on paved surfaces.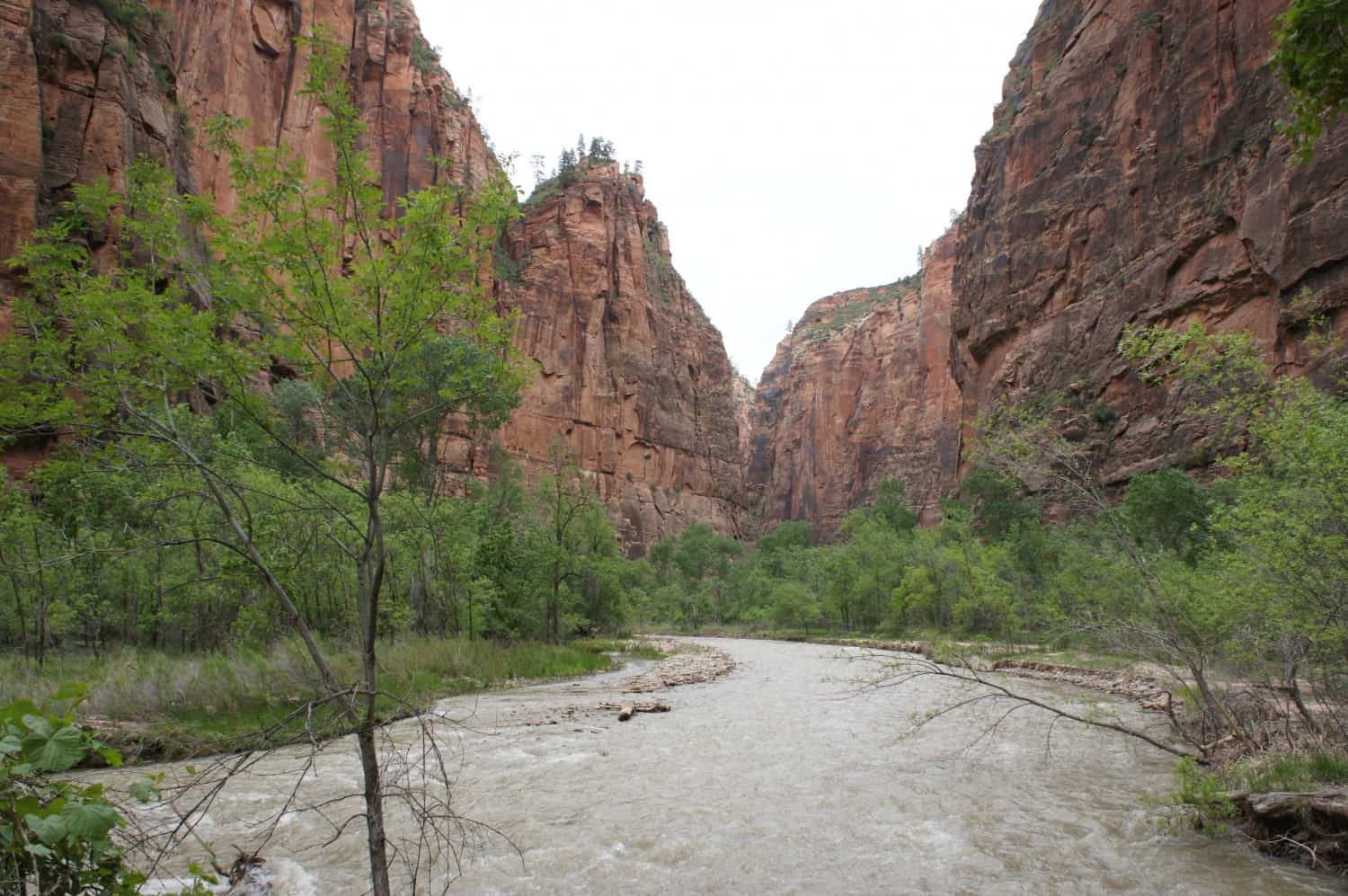 Visit Springdale
The town of Springdale conveniently sits just outside Zion's South Gate. With pet friendly hotels, campgrounds, restaurants, and dog parks, it's a welcoming place for pet travelers.
Stop in at the visitor center for a few recommendations, and then get some lunch or dinner! We found the pet friendly patio at Oscar's Café to be the perfect place for a bite to eat.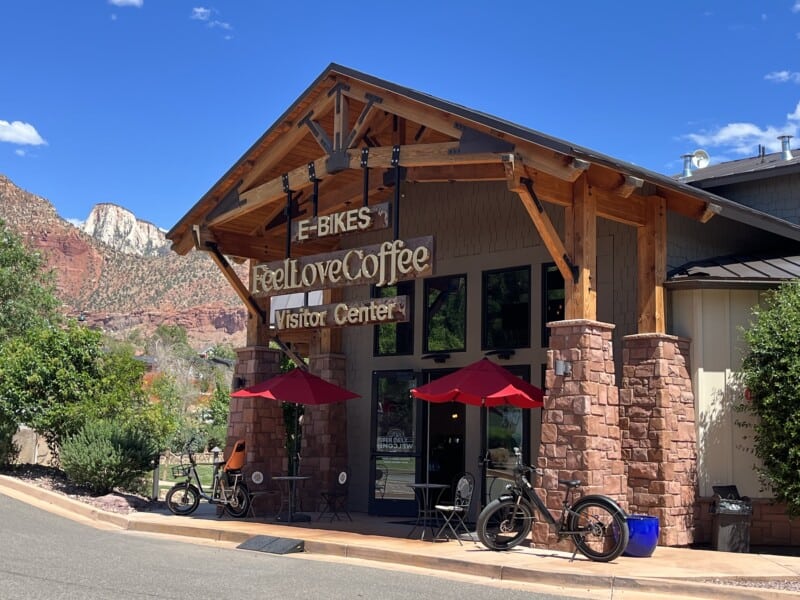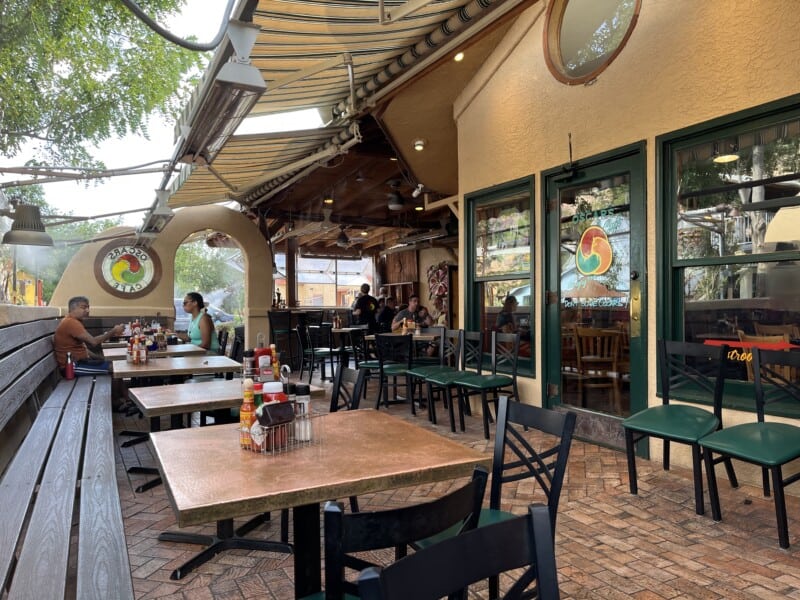 Drive To Kolob Reservoir
To see a less popular section of Zion National Park with your pets, continue west on Hwy 9 to Kolob Terrace Road and then head north. The 25-mile drive climbs from 3,550 feet to 8,118 feet and crosses in and out of the national park. But it's the views that make the drive such a treat!
You'll drive by several trailheads along the way. Unfortunately, pets are prohibited on all of these trails. But there is a picnic area and overlook at Lava Point that's worth checking out!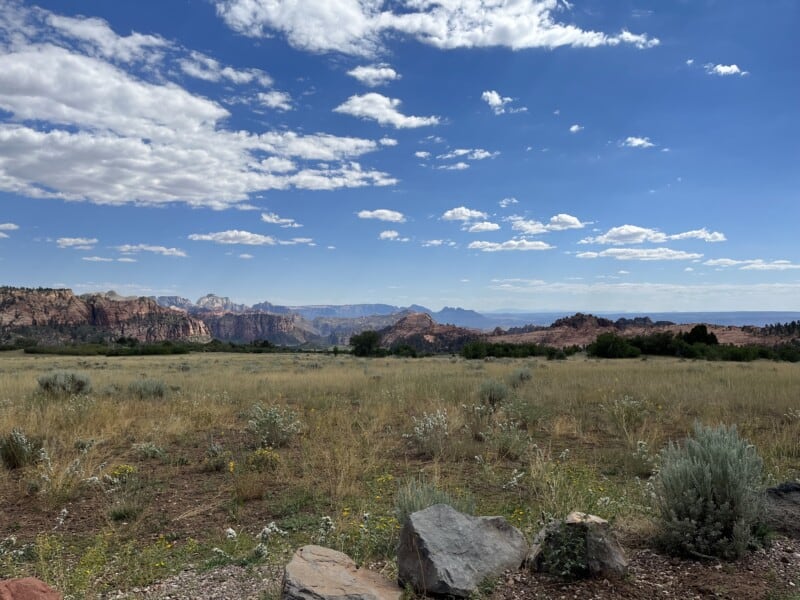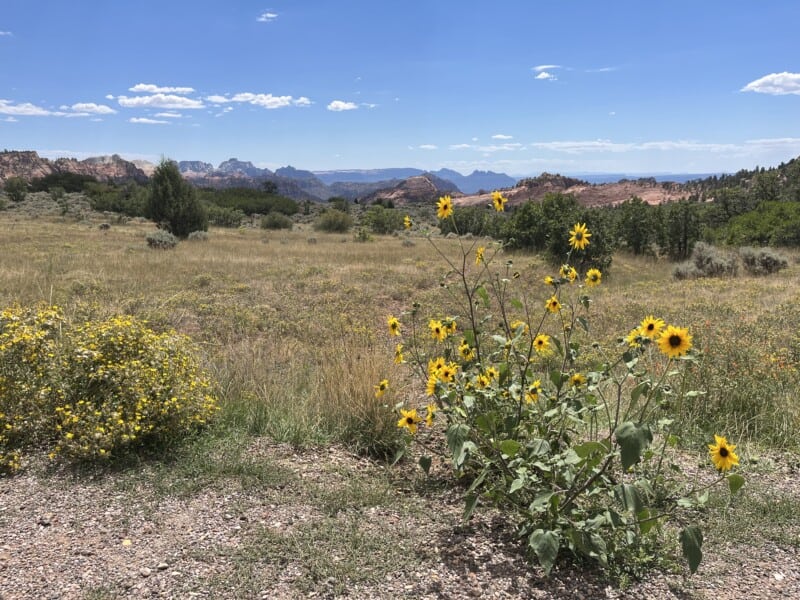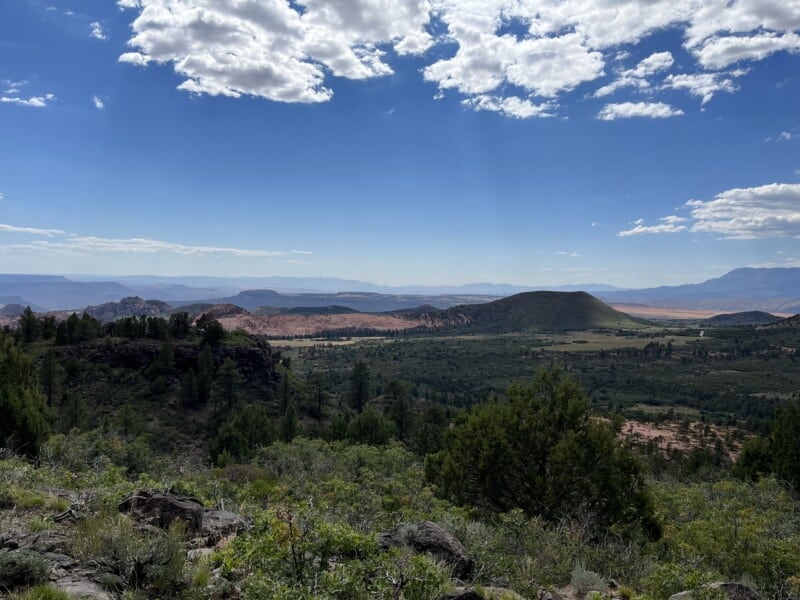 At the end of the road is Kolob Reservoir. In addition to being a spectacular body of water, the temperatures here were nearly 20 degrees cooler than they were in Springdale on the day we visited!
It was a very welcome break from the heat, and Myles thoroughly enjoyed a bit of exploring.
A privately-run campground encircles the reservoir, but most of the sites were open the day we visited. There's also a boat launch and kayak, canoe, and paddle board rentals. It would be a great place to spend the day!
Heads up: We had no cell coverage at the reservoir, so I'd recommend calling to set up your kayak, canoe, or paddle board rental in advance!
Kolob Adventure Rentals – 435-767-1112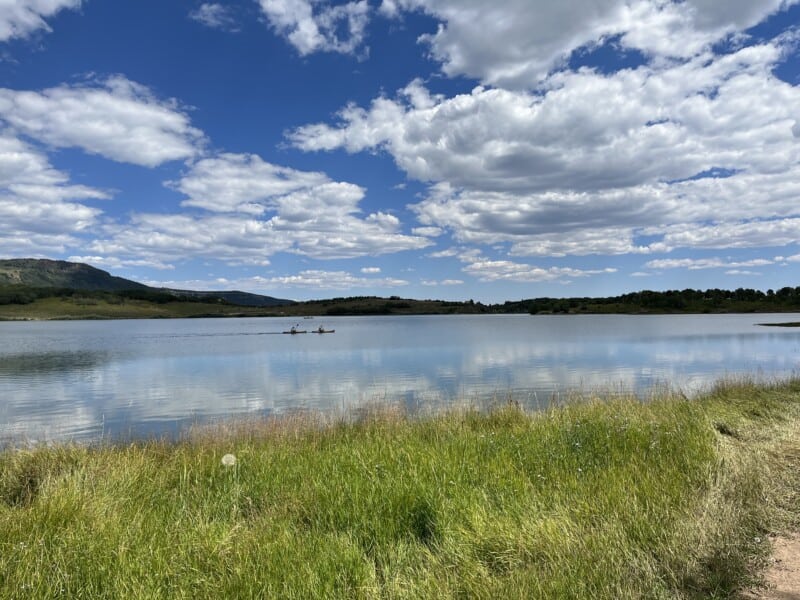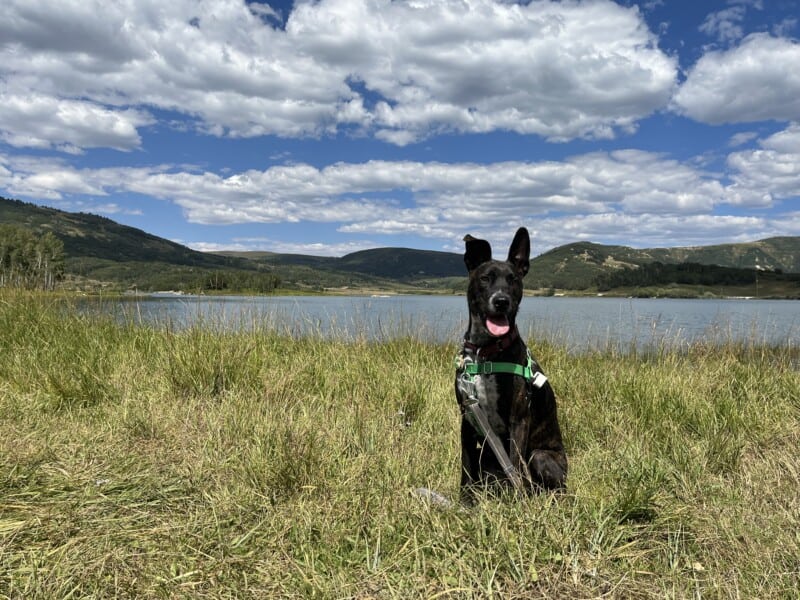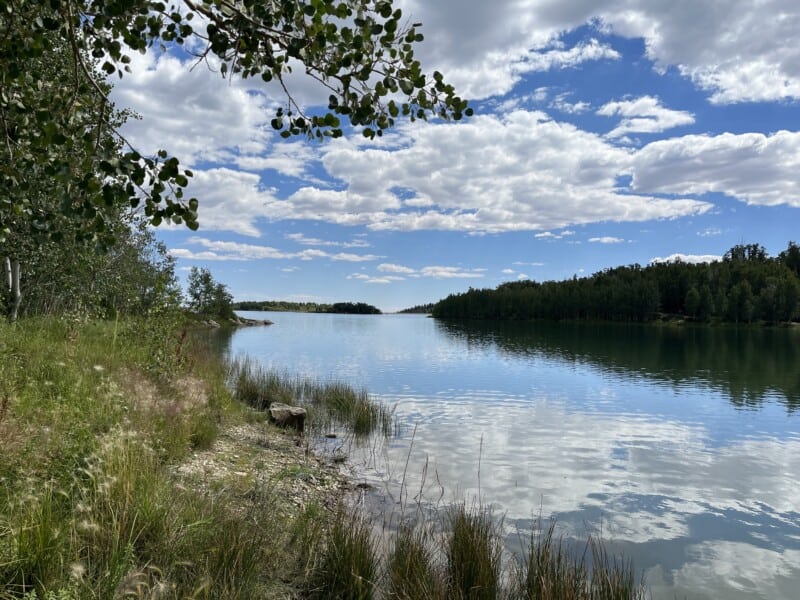 Hiking With Pets Near Zion National Park
If being at Zion inspires you to get out in nature for more hiking with your pet — we can help! As we mentioned, there's only one pet friendly trail in Zion. But there's a wonderful solution just up the road.
Two districts of the Dixie National Forest are easy driving distance from Zion! The Pine Valley Ranger District is just north of St. George, Utah. And the Cedar City Ranger District is east of Cedar City, Utah. Both of these areas offer fantastic hiking. Or head to our favorite area in Dixie – Red Canyon. The great news is that ALL the trails at Dixie are pet friendly!
Stop in at any visitor center for trail conditions and maps. Then get out and enjoy a hike together!
READ MORE ⇒ Discovering Utah's Pet Friendly Dixie National Forest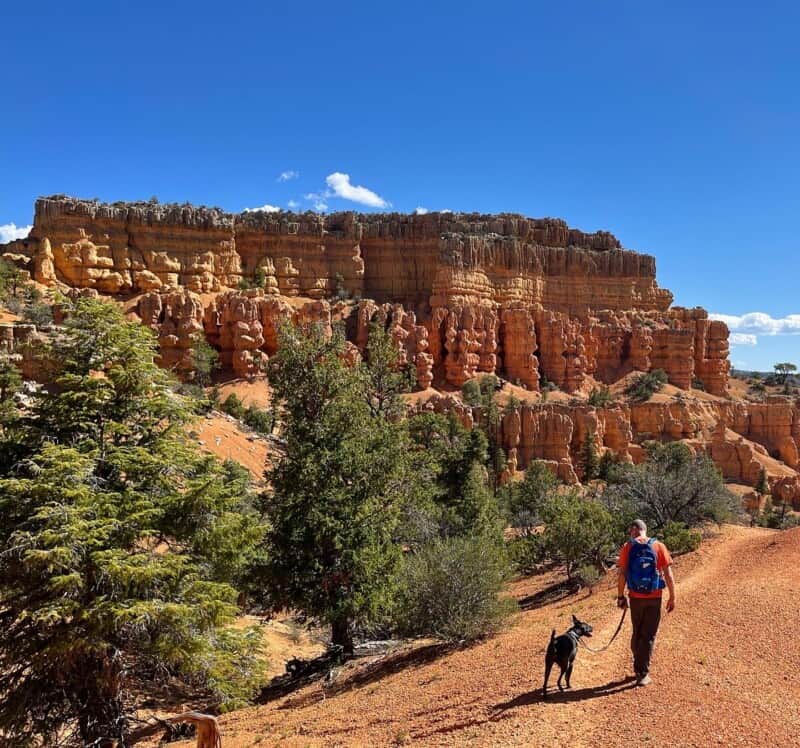 We hope our visit to Zion National Park inspires you to plan a trip with your pets! Though pets can only go on one trail here, there's great hiking just down the road at Dixie National Forest. And southern Utah is a wonderful place for pet friendly adventures.
Waggin' trails!
Amazon Affiliate Disclosure: GoPetFriendly.com LLC is a participant in the Amazon Services LLC Associates Program, an affiliate advertising program designed to provide
a means for website owners to earn advertising fees by advertising and linking to amazon.com, audible.com, and any other website that may be affiliated with Amazon
Service LLC Associates Program. As an Amazon Associate, the owner of this site earns a commission from qualifying purchases.
(Visited 120 times, 1 visits today)